Swedish Rhapsody: Volvo and SAAB in Miniature
by Brian Willoughby
Historically, small-scale diecast manufacturers have not been kind to either of Sweden's two auto producers. Rather, they have largely ignored Volvo and almost completely forgotten SAAB. This seems odd: both companies have built some quite memorable vehicles over the years, both are still strong sellers throughout the world and both have rich histories that include a great number of successes in motor sport (SAAB even won the prestigious Monte Carlo Rally in 1963). Why then are there so few miniatures of these rugged, solid and sometimes sporty Swedes?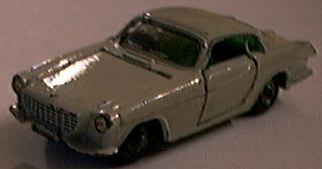 .
.
.

Volvos left to right: P1800 by Lone Star, 244DL by Yatming, 245DL by Majorette, 420ES by Matchbox

Perhaps the main reason lies in the fact that there is no diecast toy industry in Sweden. Nationalism runs high in diecast cars: look at Lesney's Matchbox range during the 1950s and early 1960s with its decidedly English offerings of Austins, Vauxhalls, Wolseleys and Hillmans. Consider, too, the Majorette line-up with its frequently overwhelming number of Simcas, Matras, Renaults, Citroens and Peugeots. Obviously, one can only conclude that had there been a diecast manufacturer in Sweden, it would have followed suit and produced a flood models that would have been directed primarily at children and collectors in the home market.
Imagine for a moment the possibility of a Swedish-based "Lesney" and the models it would have produced of the automotive milestones in both Saab's and Volvo's histories. Imagine, too, miniatures of Saab's impressive airplanes, models of Volvo-Penta powered motorboats and diecast versions of the various forestry, construction and agricultural equipment produced by Volvo BM. And while you are envisioning "might-have-beens", think of all those unique vehicles Volvo built for the Swedish Army and the United Nations as well as Volvo's and Scania's tremendously successful trucks and buses. However, since this imaginary "Swedish Lesney" never existed, many of these notable Swedish vehicles were never honored in miniature.

.
.
.

Volvos left to right: 760 GLE by Siku, 760 GLE by Majorette, 760 GLE by Matchbox, 760 GLE by Maisto
Of course, there always has to be an exception the rule and one particular Swedish car can be said to have truly caught the attention of diecast manufacturers worldwide: Volvo's stylish P1800 sports coupe. In 1:64 scale, the English company of Lone Star produced a most impressive model of the P1800 as part of its Impy range which featured opening doors, trunk lid and hood. In Wales, Corgi made a featureless P1800 casting with "Whizzwheels" that was a member of the Juniors range in addition to a "Rockets" version that was modeled after Simon Templar's chosen transport in "The Saint" television series. While these three miniatures may not seem like many, a collector should remember that P1800 models are abundant in 1:43 and that a myriad were produced in a variety of other scales.
After the P1800, miniature Volvos once again disappeared from the annual diecast catalogs until the company completely abandoned its once rounded styling in favor of the now familiar and boxy shape that has affectionately became known the "brick". The 164E, the 244DL, the 245DL and especially the 760GLE came to rank among the most prolifically modeled Swedish cars after the P1800. Once again, models were offered by a multitude of manufacturers in a variety of scales yet all of these cars appear at least once in 1:64.
In the one-offs department, Playart offered a miniature of the Dutch-built Volvo 343, a small economy car which Volvo deemed unsuitable for sale in the North American market. For those with an appreciation of the unusual, Majorette selected one of the most obscure of Gothenburg vehicles to model under the generic name of "Explorateur": the Volvo P2304, an all-terrain, high mobility, forward-control four-wheel drive vehicle which served in both the Swedish army and United Nations forces. And for further variety, collectors can search for the somewhat rare Volvo BM agricultural tractor once offered by Husky/Corgi Juniors during the late 1960s into the early 1970s.
While relatively few models of Volvos have appeared over the years, miniature, diecast SAABs exist in such scarcer numbers that less than a half dozen models represents an extensive collection. Apparently, no 1/64 scale model exists of the SAAB 92, 93, 95 or 96 and it was not until the third generation Sonnet sports car that any notable diecast manufacturer paid homage to Sweden's other car maker. Interestingly, models of Scanias, the truck and bus producing concern which was a division of the SAAB group, have, historically, been modeled with more frequency than SAAB automobiles. Perhaps, for additional scope, Scanias can be collected to be displayed alongside the few Saab cars that have cast over the years.


.
.
.

Saabs left to right: Sonnet III by Yatming, Sonnet III by Matchbox, 900 Turbo by Majorette, 9000 by Matchbox

The following is an attempt to list most known SAAB and Volvo automotive castings; it does not contain commercial vehicles although some fun oddities such as the aforementioned Volvo P2304 and Volvo BM Tractor have been included. If you desire more miniature SAABs or Volvos, you will have to look elsewhere in either smaller or larger scales to complete your collection. Nonetheless, 1:64 scale offers a fair amount of variety and even some rarity, making it a good and sometimes challenging place to start. Finally, if you want to expand your collection to include "all" Scandinavian cars, throw in a model or two of Porsche's Finnish-built Boxster.
1/64 SAAB MODELS
Majorette 284 SAAB 900 Turbo
Matchbox 65 SAAB Sonnet III
Matchbox 15 SAAB 9000
Siku 1066 SAAB 9000
Yat Ming 1014 SAAB Sonnet
1/64 VOLVO MODELS
Corgi Juniors 51 Volvo 245DL
Corgi Juniors 62 Volvo P1800
Corgi Juniors 84 Volvo 760GLE
Corgi Rockets "The Saint's Volvo" [Simon Templar's Volvo P1800]
Husky/Corgi Juniors 34 Volvo BM Tractor
Lone Star Impy 19 Volvo P1800
Maisto Volvo 760 GLE
Majorette 220 Volvo 245DL
Majorette 230 Volvo 760GLE
Majorette 260 Explorateur [Volvo P2304 "Cub"]
Matchbox 62 Volvo 760
Matchbox 69 Volvo 480ES
Norev Volvo 200-Series Sedan
Norev Volvo 200-Series Station Wagon
Playart 7255 Volvo 343
Playart Volvo 164E
Playart Volvo 244DL
Siku 1065 Volvo 760GLE
Siku 1084 Volvo V40 2.0 16V
Summer Volvo 164E
Yat Ming Volvo 244DL
Yat Ming 8913 Volvo 760GLE
Zylmex D84 Volvo 760GLE