SMALL SCALE F1 WORLD CHAMPIONS, continued
By David Cook
Images by Doug Breithaupt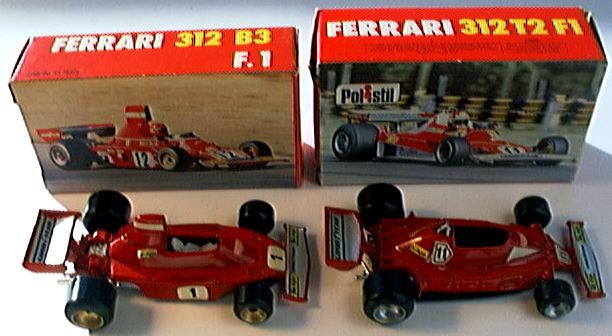 English engineering continues to dominate with the McLaren M23 from 1974, again driven by Fittipaldi; model by Polistil. Ferrari begins its comeback in 1975 with a 312 B3 model for Niki Lauda, again by Polistil. McLaren strikes back in 1976 with an upgraded M23B and James Hunt, another Polistil. Ferrari gets the last word in 1977 with it's 312T2 and Lauda again, also by Polistil.
But while Ferrari/Ford battles raged on, a revolution was taking place in engines. A long-ignored aspect of the 3-liter formula allowed 1.5 liter
turbocharged engines; Renault began work on this type of F1 engine in 1977 but was never to win a championship. This honor fell to the Brabham team, now under new management. They won in 1981 with Nelson Piquet and the BT-49/Ford pictured here by Guisval (this model looks ready for the paint shop!) but took the first championship for a turbo-powered car in 1983 with this BT52/BMW model by Polistil driven again by Nelson Piquet.
In between the two Brabham years Keke Rosberg managed to win the final championship for a Cosworth-Ford powered car with
this Williams FW08 again by Polistil.
By 1984, all major entrants had turbocharged engines with close to 1000hp!
Williams/Honda dominated these years. Seen here is the Williams FW11B by Tomica, champion in 1987 for Nelson Piquet. Honda moved its engines to McLaren for 1988 and won with this MP4/4 by Majorette with the Great Ayrton Senna at the wheel.
At this point everyone involved with F1 realized that turbo engines were a dead end; unregulated they were too powerful to be safe. With fuel restrictions the races became boring economy runs. It was decided to switch to a 3.5 liter "normally aspirated" formula for 1989.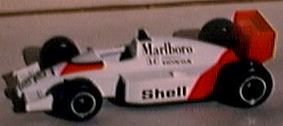 But while the engine formula changed, the winning manufacturer did not; Honda engines powered a series of McLaren chassis in '89, '90, & '91 to championships for Alain Prost and Ayrton Senna. The cars all closely resembled the Tomica model.
Williams finally broke the McLaren monopoly with Renault power. This beautiful model FW15 is by PMA Microchamps and won for Nigel Mansell in 1992. A similar model won for Alain Prost again in
1993.
Our last entry in the F1 World Championship derby is this very nicely done PMA Microchamps Benneton-Ford. Michael Schumacher drove it to the 1994 championship. He won again in 1995 with a
similar car powered by Renault.
While Doug and I between us have some really nice F1 championship cars, I feel more strongly about what is missing here. I have been unable to locate any of the classic champions of the 1950's: the early Ferraris, the Maseratis and the all-powerful Mercedes GP cars. We may be able to fill some gaps in the '60s and '70s and more recent models will continue to come on line, hopefully, but these early champions remain elusive. Please feel free to let us know about any F1 champions we have missed