Toyota 2000GT cvt. - Playart
Toyota 2000GT cvt. (Bond) -
Johnny Lightning

Toyota 2000GT - Tomica


Toyota 2000GT - Impy Lone Star

Toyota 2000GT -
Yatming (early)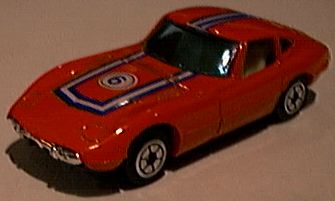 Toyota 2000GT - Yatming (late)

Toyota 2000GT - Zylmex

Toyota 2000GT by Wheeler

Below is a list of Toyota 2000GT models in a variety of scales.
Asahi (hardtop/1:43)
Corgi (convertible/1:43 "James Bond")
Corgi (conv./1:43 w/ Whizzwheels)
Diapet (hardtop/1:40 street)
Diapet (hardtop/1:40 police)
Eidai (hardtop/1:28)
Johnny Lightning (convertible/1:64)
Kyosho (hardtop/1:43 street)
Kyosho (hardtop/1:43 racing)
Kyosho (convertible/1:43)
Mebetoys (hardtop/1:43)
Playart (hardtop/1:64)
Playart (convertible/1:64)
REI (hardtop/1:55)
Schuco (hardtop/1:24 street)
Schuco (hardtop/1:24 racing)
Siku (hardtop/1:55)
Tomica (hardtop/1:60)
Tomica Dandy (hardtop/1:43)
Yat Ming (hardtop/1:64)
Zylmex (hardtop/1:64)
Toyota 2000GT in Miniature
by Brian Willoughby


Thirty-five years ago, it would have been hard to imagine that Toyota would some day become the maker of the best selling car in the United States as well as one of the five largest automobile producers in the world. After all, during the mid-1960s, the imported car market in the United States was still dominated by Volkswagen and a select group of other European makes with Toyota and Datsun essentially being relegated to minor roles on the West Coast. At the same time, Detroit was proving that it too could produce compact cars capable becoming popular sellers even if, like the Corvair, they were hardly engineering masterpieces.
Concurrently, Toyota was, through the rather small quantities of cars it was selling outside of Asia, quickly building a reputation for producing a line of very well-made and long-lasting vehicles. The legendary Land Cruiser was the first Toyota to make its presence widely known outside of Japan and it quickly began giving the established makes of Jeep and Land-Rover some very fierce competition. Yet during the 1960s, off-road "field cars" had not evolved into the trendy SUVs that seem so ubiquitous today and Toyota eagerly sought a distinguished product that would truly show the world that it had arrived. The 2000GT would prove to be just the car Toyota was looking for.
Hitherto known only for building ungainly little sedans and a variety of utilitarian vehicles, Toyota's stunning 2000GT made an impact upon the automotive world that even today is difficult to measure. Why this car is still so vividly remembered today is not for any great technological advancement or even its timeless shape; rather, it is still a topic of conversation today because of its anomaly status. The 2000GT was an exclusive, hand-built sports car that, except for pedigree, had much more in common with Aston Martins, Maseratis and Ferraris than with anything the Japanese automotive industry has ever offered before or since. In essence, it was an instant and deserved classic.

As with most Japanese products of the period, it the Toyota 2000GT was very derivative in both styling and engineering and it owed most of its inspiration to contemporary British sports cars. Its engine was a straight six with double overhead cams, much like what would be found under the bonnet of a Jaguar or Aston Martin. Similarly, its fully independent suspension of unequal length control arms at each corner was nothing new to anyone familiar with Lotus products. Needless to say, its shape, while certainly distinctive, had been rather obviously injected with a large dose of Jaguar E-Type during its developmental stages. Yet the car demands consideration as an entire package and as such, it was and is very impressive and beautiful.
Of course, the 2000GT had two major problems that would prevent it from rising to the heights it truly was capable of: first, it was a Japanese car and, consequently, it had no pedigree. Being hand-made, the 2000GT necessitated a very high selling price in a time when Japanese cars were yet not capable of commanding high premiums like today's Lexus line. In the end, and despite a five year production run, Toyota found homes for less than 350 2000GTs.

In spite of the buying public's lack of acceptance, model makers the world over found the 2000GT to be the ideal subject for miniatures. Probably the most famous pair of 2000GTs were the identical convertibles used in the James Bond film "You Only Live Twice". Although several models of convertible 2000GTs have been produced over the years, only two full-size rag tops were ever produced and both of them served under Agent 007. Consequently, all miniature 2000GT convertibles are actually patterned after the white-with-wire-wheels Bond cars irrespective of how they were decorated. Playart was the first to offer a model of the Bond car (even though it was never labeled as such) and it was a well proportioned whose only fault was its slightly too-wide track. For years, the Playart convertible was the only 1:64 miniature of the 2000GT Convertible (yet many were produced in other, larger scales) until the arrival late last year of Johnny Lightning's excellent miniature. Modeled directly from the Bond cars, the JL 2000GT is a painfully accurate model that is hard to fault except for its overly wide, mag-style wheels.
Although the popularity of James Bond might have made it seem as if all 2000GTs were stylish convertibles, all of the remaining 2000GTs produced were hardtops and therefore it should come as no surprise that the majority of miniatures are likewise. Curiously, Playart offered models of both the aforementioned convertible and the hardtop version of the 2000GT in its lineup. Naturally, both models were based on the same die which happily meant that they were both equally handsome models. As might be expected, Asian-based diecast manufacturers were keen to show their pride in such a home-grown superstar by producing a multitude of miniatures of the 2000GT. Hong Kong-produced Zylmex introduced an acceptable model of the 2000GT which had the correct body shape yet was befell by overly small wheels set too far apart. Wheeler also offered a model of the 2000GT; however, it clearly illustrated that achieving an accurate rendition of the cars curvaceous lines was not an easy task.
As might be expected, Tomica offered what was and is the best 1:64 scale model of the fixed-roof 2000GT ever produced. Equipped with opening doors, the Tomy miniature of this car, which is still in limited production, almost perfectly captures the 2000GTs overly narrow track and its sensual curves. Although earlier versions (as illustrated here) have better looking wheels, this is one model that still manages to appear "just right" even with the standard Tomica speed wheel that has been used now for eons. Back in Hong Kong, Yatming also decided to join the party by introducing its own 2000GT model which it continued to make for several years. Another well-shaped model, earlier versions do appear better than latter ones due to bigger and less flashy wheels and simpler, sometimes monochrome, paint schemes. Future manufacturers of 2000GT models should keep this lesson in mind: the beauty of this car is in its purity of line; add gaudy graphics to it and it suddenly becomes ugly.
Nevertheless, the 2000GT caught the eye of two well-known European diecast manufacturers. Impy's model of the car comes across quite nicely and it is yet another testimony to the quality and grace of these infrequently encountered English miniatures. While known primarily for offering outstanding models of predominately German cars, Siku added one of only a few Japanese cars to ever make its model roster with an excellent 1:55 scale model of the 2000GT. Yet perhaps the most unexpected model of the 2000GT arrived from REI of Brazil. Cast from retired Siku dies, the REI 2000GT offered a nearly identical rival to Siku's original while adding some very unique color variations never available with the German version.
Probably the most interesting thing about the 2000GT is that while only a limited number of the actual cars were made, it has been modeled more frequently than any number of cars that had significantly higher production totals and more publicity. Discussed here are only a fraction of the models of the 2000GT that have been offered over the years as the car is very well represented in larger scales as well.

Sadly, the 2000GT has never appeared in a 1:18 version; however, as perennially popular as the car is, one will probably be on the market within a few years.