Hot Wheels spans 30 years with a Cord
by Doug Breithaupt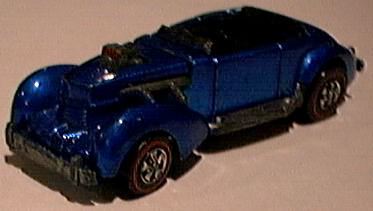 Few would argue that the 1936-37 Cord is one of the most beautiful cars ever designed. The lines are timeless and at the same time, so evocative of the late 1930's and the Art Deco period. With the pontoon fenders, covered headlights and coffin-nose, the Cord 810-812, was a true automotive masterpiece.
Why has the 1936-37 Cord been so neglected in small-scale diecast? Up until 1999, only two models had been done. One was a cartoon version for Ertl's Batman series, a stylized Cord offered as 'Bruce Wayne's Car.' The other is pictured on the left and was offered in the early 1970's be Hot Wheels as a mild custom. The example in my collection is far from mint but even so, I am pleased to have it. The Custom Cord by Hot Wheels is one of the most collectible of the early red-line cars. The one pictured is missing the convertible top and the wind-shield has been chopped, no doubt to remedy what was already broken. The blower poking through the hood and the side-pipes are the 'custom' part although, some Cord models were supercharged.
For 1999, Hot Wheels offers a second 1936 Cord, some 30 years after the first. Curiously, the 1936 Cord Beverly Sedan was selected. Curious in that the 'Sportsman' roadster is far more desirable. The Beverly sedan is handsome but the roadster is an automotive icon. Regardless, the sedan it is and this time in stock form, well almost. First, Hot Wheels is offering a beautiful classic car but could not resist hot rod colors. The candy-apple metallic exterior color is bad enough but a purple interior? To make it even worse, the low-profile wheels with crude-looking wire wheels are just flat wrong for the car. The Cord came with steel wheels and hubcaps, and balloon tires with white-walls were the look. To be fair the earlier red-lines were just as wrong but it was a 'custom Cord' after all. The Beverly is supposed to be stock. The good news is that paint and wheels can be changed easily and no doubt this casting will see long service. Perhaps we will even see an up-scale version (read expensive) as Hot Wheels recently did with their Talbot Lago and Mercedes SSK of 1937 in a boxed set.
What a shame that Tomica, Matchbox or another of the diecast manufacturers offering first-class castings, has not done the 1936-37 Cord. Hot Wheels has a virtual monopoly on pre-war classics in the 1:64 scale field. The Cord now provides the 'C' of the ACD (Auburn/Cord/Duesenberg) family. Now there is an idea for a boxed set from Mattel. Regardless, Hot Wheels is to be applauded for offering not one, but two Cords, even if it took 30 years for the second to arrive.