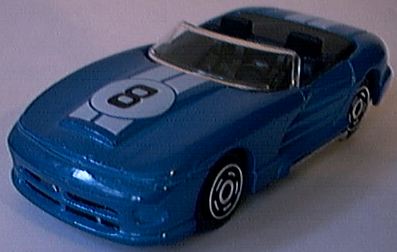 .
.

Skunk Works II - Seeking the Striped Viper
by Doug Breithaupt
In the February 1999 issue we reviewed twin-striped Camaros, for March, it's Viper time. When Chrysler first stunned the automotive world with the Viper concept car, it was clearly envisioned as a modern-day Shelby Cobra. Since the best-known Cobra colors were blue with white racing stripes, it was natural for these colors to appear on the Viper at some point. The production Viper R/T did not come with stripes, rather, red was the color of the concept car and initial production run. Stripes did appear later in a true skunk-scheme of black and white.
The GTS Coupe that followed the Viper Roadster followed the lead of the Cobra Daytona Coupe and blue with dual white racing stripes was the clear choice. The concept car and initial production run all came this way. As the GTS moved into sports car racing, it appeared in traditional American racing colors of white with blue stripes.
Small-scale Vipers were sure to follow the real thing. In 1:64 scale, Matchbox was first, followed by Hot Wheels, Racing Champions, Maisto and Majorette. Both Matchbox and Majorette ran into licensing problems with their initial castings after already preparing the molds. As a result the first Vipers to be released were not really Vipers. Shown above, these models were slightly re-designed and offered as generic roadsters. Both came in blue with skunk-stripes. Racing Champions selected the Viper GTS to lead off it's Mint Edition series. RC offered both the production GTS and the 1996 Indy Pace Car version. They have excellent detail including red, V10 engines. More recently, RC has offered a white/blue striped Viper in it's cheap toy line. Matchbox has offered both roadster and coupe in regular series and Premier Collection form. Maisto offered the GTS is two versions, one stock and one in racing trim, complete with full rear spoiler.
.
.

Viper GTS (Mint) by Racing Champions - Viper GTS by Matchbox - Viper GTS by Maisto

.
.

Viper GTS (Premier) by Matchbox - Viper R/T (Premier) by Matchbox - Viper R/T (Premier) by Matchbox

.
.

Viper GTS by Matchbox - Viper GTS-R by Maisto - Viper GTS by Racing Champions
Hot Wheels offered their Viper R/T with stripes only as part of the Treasure Hunt series, which I do not have. For diecast or Viper collectors, the striped models are clear favorites. If you know of others, help me out if you can, via the Guest book.