Modern Rally Cars in Miniature
by Doug Breithaupt

In small-scale diecast there are hundreds of stock cars, Formula 1 and Indy cars and sport GT race cars. Professional rally cars are far fewer in number even though rallying is one of the most popular motor sports in many countries. One country where rallying is not as popular happens to be the United States and that explains why rally cars are scarce. Toy car makers are forced by economic realities to serve the US markets first. Perhaps this explains why every NASCAR team variation is reproduced in diecast of all scales.
Another factor contributing to the lack of pro rally cars in miniature is that no US auto manufacturers have ever tried to produce a competitive car for the pro-rally series. Ford's UK arm has built some great rally cars but you won't see a street version in a US showroom. Rally cars are left to the European, British and Asian manufacturers.
Small-scale diecast (1:64 scale) does offer some nice examples of pro-rally cars for the collector. Because many street cars with minor modifications have participated in rallying over the years. The cars reviewed here have been limited to those that are clearly identifiable as rally cars. This means they must have a rally plate or say rally on them or have rally accessories such as rally lights.


.
.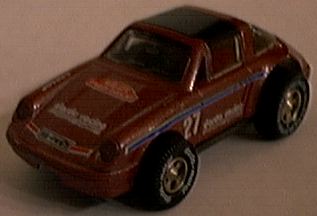 .
.
The first group of rally cars represented above are all of German origin. First to the start is one of the best rally cars of all-time, the Audi Quattro of the 1980's. While many toy car makers did the Quattro, this example by Majorette (#221 includes rally lights and body modifications appropriate for a rally car. Next up is a BMW 325i by Corgi. It sports 'Liege Rome Liege' rally numbers and has the full body modifications. Third out is the classic Porsche 911T by Darda. Of the many 911 models in my collection, this is the only one with rally markings. The nose clearly shows a rally plate for 'Rallye Paris-Dakar,' one of the most difficult of the long road rallies and one where AWD Porsches were successful. Number four of the Germans is a favorite. Matchbox #15 from 1968 was treasured by many a child after seeing Disney's Love Bug movies. Perhaps it was accidental but The Matchbox VW Bug was a perfect stand-in for 'Herbie' in many garden races. The rally plate reads '1968 Rallye Monte Carlo' and Beetles did in fact run in many rallies. Last of the Germans is a favorite from Hot Wheels, the 'Hare Splitter' of 1978. This rally Rabbit has lights and spare on the roof and says 'Monte Carlo Rally' on the sides. Extra rally lights and a blacked-out hood complete the ensemble.


.
.
.
.

Fords dominate the British rally representatives. Three Matchbox Ford Escorts span the 1970's to 1990's, all picture perfect in blue and white. First up is the RS2000 (1978), a very popular rally choice in the '70's. The 1980's saw the RS200 (1986) as Ford's hot rally entry, a car clearly not for the street. The RS Cosworth of 1993 is the third of the Matchbox rally escorts and even wears a 'Rallye Monte Carlo' plate on the bonnet. In 1998, Hot Wheels offered their Escort Rally Sport with 'Monte Carlo' markings. The last Brit is a 1970's Triumph TR7 with rally numbers on the sides. The TR7 did do some rallying and one hopes they carried many spare head gaskets. Curiously, no Jaguars could be found in 1:64 with clear rally identification. Lotus also came up empty, what a shame.


.
.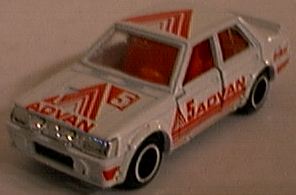 Japanese rally cars have had great success over the years. Starting first is a car featured in last month's issue, the Suburu Impreza by Metchy of Hungary. In MOL Rally Team colors, this is a very nice example of a car never before done, thanks Metchy. Hot Wheels is back with the number two car, a Toyota MR2 (1990) with plenty of extra headlights. Finally, Mitsubishi is represented with a Lancer, #38 by Tomica. More recent versions of the Lancer are very successful on the pro rally circuit. Missing are Nissan's Z cars, very successful in rallying in the early 1970's. None in the collection show clear rally markings.