Modern Rally Cars in Miniature, cont'
by Doug Breithaupt

The professional rally car in miniature continues with cars of France and Italy. It is interesting to note that no Volvo or Saab cars could be found with rally markings, a curious omission as so many great drivers and cars came out of the far north. The first French car is the rare Matra-Simca Bagheera. Majorette produced #219 in several variations including this French blue example with 'Rallye' on the sides. This mid-engine car is a three-seater, all in front.

.
.
.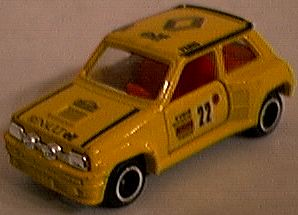 .
My favorite rally car will come as no surprise to regular readers. The Citroen SM by Matchbox actually came as a rally car in a set pulling a motorcycle trailer. It should have a rally decal on the hood but the glue on my decal no longer sticks and ruins the look of the car. The tires and rally plate are a plastic attachment to the top of the car. The SM won the Morocco Rally in 1971 and I vintage-rally my real SM, hence it's favorite status. Second off is another Citroen, a Dyane model by Majorette in full rally kit. The dual exhaust must indicate a bit more power for this 2CV cousin. Renault weighs in with two variations on the 5 model. First is a 5TL by Matchbox (#21, 1978) with 'Rallye Le Car' on the sides. Tomica offers the 5 Turbo version (#F25), a real stormer. The Renault 11 by Majorette (#275) sports a "1986 Rallye Monte Carlo' badge. Missing are the Alpine Renault toy cars, none of which offer rally markings.

.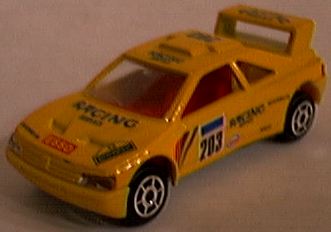 .
.
.

Peugeot has had recent rally success with their cars. The 205 by Hot Wheels (1988) is nicely done and offers a flip-up tail with engine detail, a real hot hatch of the 1980's. The 405 T 16 by Majorette (#202) faithfully re-creates the colors of the Camel sponsored cars, but without the name 'Camel' due to advertising restrictions. Tomica is clearly not so restricted with the first of our Italian rally cars. The Lancia Stratos ran away with rally titles in the 1970's Here the sponsor is clearly Marlboro. The Lancia Monte Carlo 037 of the 1980's is an Edocar, #7 from 1986. This Maisto casting is one of many, re-badged for the Dutch Edocar firm. Our last rally car is a Fiat 131 Abarth by Tomica (#F11, 1978). The rally plate says 'San Remo' on this one.
Overall, a good cross-section of rally cars are represented. It is interesting that none of the cars shown are earlier than the 1968 VW Bug by Matchbox. Can anyone offer a small-scale rally car, clearly marked as such, that pre-dates the VW? Where are the great rally cars of the 1950's and 60's? It is nice to see some of the new rally castings from Hot Wheels and Majorette. How about a few vintage rally cars from Porsche, Ferrari and Jaguar?

Miniature Motorcar List | Tales of Toy Cars

GEN II HOME PAGE