Matra-Simca's Road Cars of the 1970s: An Overview of Miniatures
by Brian Willoughby
For some reason, fascinating cars always result when an aeronautics firm decides to enter into the production of automobiles and Matra's entry into automotive realm proved to be no exception. Unlike most other aircraft manufacturers that turned to cars, Matra entered the automotive field not by designing a new car, though rather by purchasing the remains of the pre-existing Rene Bonnet works. Bonnet had been producing quick little hybrids (mostly with his partner Deutsch) for years prior to Matra assuming control of the concern yet soon after the takeover, the aerospace giant carefully began remolding the resulting new company named Matra Sport into one of the most formidable race track champions of its day. Nonetheless, Matra, between the races, also found time to design and build a few notable (albeit somewhat flawed) road cars that exhibited a unique mixture of character, style and charm.
Like so many other small, specialist car builders, Deutsch-Bonnet always used proprietary powerplants which they tweaked to their own specifications, yet Matra opted to enter into an exclusive partnership with Simca during the late 1960s that provided it with both drivetrains and assistance in the distribution of its cars. Early Matra road cars were largely continuations of the design principles already set down by Deutsch-Bonnet and it was not until the arrival of the Bagheera during 1973 that any of the road cars could truly be said to be the result of Matra's engineers and its cooperative venture with Simca. The Bagheera was an intriguing car: while it appeared to be a very traditional small sports car, its engine was mounted amidships and, rather than conform to the traditional sports car two-seat layout, a row of three individual seats spanned across the front of the cabin. Although the Bagheera's stylish fiberglass body suggested great speed, the car's tiny Simca engine barely provided even adequate acceleration despite a suspension that exhibited outstanding road manners. In essence, the Bagheera was somewhat of an automotive tease that failed to deliver on its promises.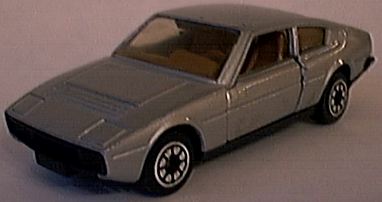 In spite of its reputation as a very modest performer, the Bagheera still spawned a significant number of diecast miniatures. Probably the best small scale model of the Bagheera was produced, somewhat surprisingly, in Germany by Schuco in 1:66. The model featured an accurate body shape, opening doors and all of the standard high-quality hallmarks always associated with this beloved toy maker. After Schuco's bankruptcy, the dies to this models were purchased by Norev who continued to offer the model for several more years with only minor changes. As might be expected, Majorette was quick to offer its own French-made miniature version of the Bagheera which was also a handsome model that featured an opening rear hatch (left). The always underappreciated Hong Kong-based brand of Playart, well-known for its rather eccentric offerings, also made a well-shaped yet featureless model of the Bagheera during the late 1970s. In Spain, Guisval produced yet another well-balanced Bagheera model with opening doors that can be somewhat difficult to find outside of Europe (right).
Every few years, an automotive product is introduced that is so ahead of its time, that decades can pass before anyone recognizes its innovation. Slightly more than two decades ago, Matra launched just such a vehicle: the Rancho. Mechanically based on Simca's successful front-wheel drive 1100, the Rancho featured a ruggedly styled fiberglass body that made it look like something that would be entirely at home on the Serengeti Plain. Equipped with tall wheels and equally tall tires, an extremely large greenhouse, auxiliary lighting and large roof racks, the Rancho pretended to be a real cross-country vehicle despite not even being fitted with four-wheel drive or off-road tires.
At the time of its debut, off-road vehicles were all the rage with well-to-do Europeans and the Rancho was an immediate success with people who desired to achieve the trendy "out-of-doors" look without sacrificing fuel economy and car-like handling. If resurrected today and built to conform to current American regulations, Matra would no doubt be unable to build enough Ranchos for North American consumption. Nevertheless, a little bit of the long gone Rancho lives on in every current "sport utility vehicle" that possesses more of the "look" than actual off-road, all-weather ability.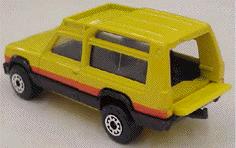 Like the Bagheera, the Rancho inspired a wealth of miniatures. Featuring an opening tailgate, Siku's 1:55 scale Rancho (left) captures the car's all-terrain appearance better than any other small-scale model and even delicately depicts the vehicle's roof racks and spot lights. Issued during the turmoil of Lesney's financial failure, Matchbox's 1-75 Series Rancho (right) was well-done; however, its details are a bit chunky, only the bottom-half of the tailgate is supplied and its wheels are overly large. (Coincidentally, this model may be a challenge to find in the United States since it was never offered in that country's 1-75 model assortment.) Happily, Corgi Juniors' model of the Rancho (below, left) was another painfully accurate miniature with a delicate two-piece, opening tailgate and well-sized wheels.
However, not all miniature Matras were restricted to smaller scales; in fact, some excellent models can be found in 1:43 and even larger scales. Always a reliable company for accurate miniatures, Solido produced outstanding models of the Bagheera and Rancho in 1:43 scale that are difficult to better.
Both Corgi and Matchbox Superkings (right) offered nice, somewhat more toylike Ranchos in 1:36 scale that make worthwhile additions to anyone's collection. Italy's Mebetoys offered two large-scale Ranchos: their crude 1:43 model should only be sought by completists; however, the 1:24 scale diecast was an accurate model and stands as the only Rancho ever offered in a scale larger than 1:36.
In its declining days, the French branch of Dinky sold several repackaged Pilen models including their fine miniature of the Bagheera; the models with a "Dinky" baseplate are considered more valuable than those wearing the "Pilen" name. Perhaps the most obscure Matras produced originate in Spain and Argentina and were produced by in 1:43 scale by Buby and Nacoral Intercars, respectively. Both were well-presented, yet they were frequently displayed the effects of poor quality control procedures.
In 1978, beset with financial difficulties, Chrysler sold all of its European holdings, including Simca, to Peugeot. Soon thereafter, the Simca name was dropped in favor of "Talbot" and all of the former Matra-Simca products became Talbot-Matras. Though by the middle 1980s, Peugeot and Matra parted ways and the Murena, and updated version of the Bagheera, became the final road car to wear the Matra name. Although its products were few, Matra's innovations were long lasting and its influence can still be felt and seen today. Of course, Matra is still a very active aeronautics company and one can always hope that it will one day return to both motorsport and providing the motoring public with more fascinating road cars. Until then, perhaps fans can satisfy their Matra penchant with miniatures.
Bibliography:
Georgano, G.N., ed. The Complete Encyclopedia of Motorcars, 1885 to the Present, 3d Edition. London: Ebury Press, 1982.Robson, Graham. A-Z of Cars of the 1970s. Bideford, Devon, England: Bayview Books, 1990.

Miniature Summary:
Buby 21 Matra-Simca Bagheera (1:43/Argentina)
Corgi 457 Matra-Simca Rancho (1:36/Wales)
Corgi Juniors 76 Matra-Simca Rancho (1:64/Wales)
Dinky 1454 Matra-Simca Bagheera (1:43/Spain)
Majorette 219 Matra-Simca Bagheera (1:55/France)
Matchbox MB37 Matra-Simca Rancho (1:64/England & Macau)
Matchbox Superkings K-90 Matra-Simca Rancho (1:36/England)
Mebetoys A-123 Matra-Simca Rancho (1:43/Italy)
Mebetoys Matra-Simca Rancho (1:25/Italy)
Nacoral Intercars 126 Matra-Simca Bagheera (1:43/Spain)
Norev 402 Matra-Simca Bagheera (1:66/France)
Norev 825 Matra-Simca Bagheera (1:43/France)
Pilen 515 Matra-Simca Bagheera (1:43/Spain)
Playart 7230 Matra-Simca Bagheera (1:64/Hong Kong)
Schuco 878 Matra-Simca Bagheera (1:66/Germany)
Siku 1340 Matra-Simca Rancho (1:55/Germany)
Solido 21 Matra-Simca Bagheera (1:43/France)
Solido 1062 Matra-Simca Rancho (1:43/France)