Vicious Tigers and Alpine Delights: The Rootes Group in 1:64 Scale
By Brian Willoughby

Fifty years ago, the West Midlands of England was home to one of the world's largest automotive industries outside of Detroit. In this highly industrialized region of the United Kingdom, two gregarious brothers named William and Reginald accumulated a collection of small and financially strained car companies and proceeded to turn the resulting sum into what became one of Britain's most successful automotive concerns for a number of years. The end for Rootes was far less glorious than the rise though along the way some very interesting and noteworthy cars (and trucks) were produced that are still fondly remembered today.
The Rootes brothers began their automotive empire building during 1928 when they managed to acquire the well-respected firms of Hillman and Humber. The two companies could not have been more different: Hillman was best known for producing modest and largely mundane saloons that competed against the likes of Austin, Morris and Ford and appealed to family-oriented buyers; Humber, however, occupied a market position far loftier and counted a great number of high ranking government officials and well-to-do professionals among its clientele. In essence, while the two companies shared little common ground in either their products or customers, they were both highly complementary to one another.
The only missing element in the expanding Rootes automotive family was a brand with a strong sporting association and identity, which, in Britain, was quite important. The solution arrived in 1935 when the Rootes brothers purchased the ailing albeit famous Sunbeam-Talbot concern with its long tradition of building competition-bred sports cars. At last, the Rootes Group was well-rounded and had an offering that would appeal to every segment of the market. Nonetheless, the empire building had not yet concluded and, in 1956, another sports car maker, the well-established Singer, completed the Rootes Group automotive family.
To maximize profits, the newly amalgamated Rootes Group readily commenced eliminating individual products and brand identities and soon began applying badge-engineering techniques to a couple of different basic platforms. While the platforms were on the whole sound designs, the slight differences between Hillman, Sunbeam-Talbot and Singer models quickly became silly and the pricing structures used to separate the brands ridiculous. However, the distinction between the "makes" continued to grow even more blurred and eventually Sunbeam-Talbot became another casualty of Rootes rationalization when the "cumbersome" brand name was abbreviated to simply Sunbeam. Yet perhaps the saddest change of all centered around the termination of Singer's beloved little roadsters under the auspices of the Rootes brothers. Nevertheless, the Rootes Group was not yet finished with offering some very memorable vehicles.
By far the most famous saloon produced by the Rootes Group was the endearing little Hillman Minx. Always well made and engineered, the Minx lasted through a number of redesigns and updates and by the mid-1950s was one of the most stylish saloon cars being produced in the United Kingdom. Even better, it managed to sell rather well abroad. The popular Minx was a natural for a miniature and Lesney Products Ltd. introduced a model of the Series III as a member of its Matchbox range for the 1958 season. One of the most charming models in the early Matchbox series, the Lesney Minx at first featured metal wheels and a monochrome paint scheme; however, later versions (like the model illustrated) were presented with gray plastic wheels and flashy two-tone paint.
Of course, a frequent criticism of the early years of Lesney's Matchbox range was its over-abundance of very English commercial vehicles. Contributing to this notion was Lesney's issuance of five different miniature Commer vans and lorries during the regular wheel years (Commer being the Rootes truck division). The first of these prolific miniature trucks was the Commer Pickup; like the Minx, early versions (such as the model illustrated here) were equipped with metal wheels and dull, single-color finishes yet later copies were fitted with plastic wheels and became duotone. Number 69 in the Matchbox lineup was the somewhat rare Commer 30 Cwt Van which proudly displayed Nestle livery decals, #62 a TV repair van and #21 a milk delivery float (below, left). While seen with great frequency in Britain and the Commonwealth, the only exposure American kids had to these vehicles was perhaps through watching an episode of "The Avengers" and their poor sales performance in the U.S. was easily predicted as would be their rarity here today. The only exception was a model of a vehicle universally loved by children: based on and modified from number 62, number 47 was an ice cream canteen and it proved to be a popular seller with its very short ice cream server in back ready to scoop up everyone's favorite flavor (below, right).
Commers proved to be a popular topic with other model manufacturers as well and Corgi's Husky range included a model of the somewhat peculiar Commer "Walk-Thro Van". This model was peculiar because, unlike most of its contemporaries from Lesney and Budgie, it featured no livery markings and was issued only in a rather vivid red color similar to that used by the Royal Mail on its vehicles. Evidently, it was another model of limited appeal and it can be very hard to find today in any condition (shown, top of page).
For the 1959 model year, the Rootes Group surprised the automotive world with its striking and completely new sports car that carried the time-honored name of Sunbeam Alpine. Aimed directly at the market segment fiercely held by BMC's MGA and Standard-Triumph's TR3, the Alpine was a new breed of civilized British roadster that featured such hitherto unheard of amenities as wind-up windows, an easily erected and folded soft-top and even a heater that was capable of warming the cabin on chilly days. Despite the fact that the Alpine had a considerably more stylish and up-to-date appearance and that its performance and pricing were within the same neighborhood, Triumph and MG fans quickly labeled the Alpine an impostor in the world of "true" sports cars. Consequently, Alpines languished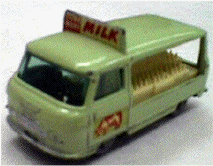 for years as modestly priced and largely unloved cars with little collector value while other British sports cars of the period skyrocketed as rolling investments. Fortunately, things have slowly begun to change for the Alpine and it is finally receiving the recognition it so justly deserved; unfortunately, it has arrived too late to save the many Alpines that were hacked up by teenage speed demons or crushed in scrap yards during the years when Alpines were felt unworthy of preservation.
Strangely, some of the most popular cars are frequently some of the rarest to be modeled. Although most were large sellers, there are only a handful of miniatures of most every British roadster ever made (in fact, the beloved Big Healey was never modeled in small scale diecast). The Alpine was no exception to this rule and the outstanding model of it produced by Corgi's Husky stood alone as the only small scale version of this car ever made until the arrival of Johnny Lightning's James Bond Sunbeam Alpine late last year. Appearing in two main color variations (red and bronze) and at least two different wheel styles, the painfully accurate Alpine, complete with removable roof, is still one of the most coveted Husky models every produced (below, right).
Unfortunately, when another Alpine model finally arrived in the toy shops, it created quite a controversy. James Bond movie fans are quick to note that the recently issued Johnny Lightning casting was modeled after a Series IV Alpine while Sean Connery drove a tail-finned Mark II Alpine in the film Dr. No. Furthermore, the purists note that the shade of blue is far too dark to match that of the car driven by Bond. And of course, many aficionados of the ferocious Ford-engine Sunbeam Tiger would have us believe that the miniature is actually a model of this fabled Alpine-based mini Cobra. Though let's stop complaining and arguing--while probably truly a Tiger, the JL piece is a very accurate model that hold its own and it was high time someone produced a model of this legendary giant killer in 1:64 scale.
The beginning of the end for the Rootes Group arrived with the development and introduction of a much maligned little car named, ironically enough, the Imp. The Imp was Rootes' response to BMC's Mini and to make certain that it was seen as an entirely unique product, it was endowed with some very unconventional and unproved engineering starting with a water-cooled, rear-mounted engine keen on overheating. Built at a new factory in Scotland, the Imp was always haunted by poor quality control yet so much had been invested in its design that it lingered on in production for 12 years. Fun-Ho! of New Zealand was apparently the only diecaster in the world to offer a 1:64 scale miniature of this unique little car. Fun-Ho!'s model of the Imp captures its look and shape quite well and it makes a very nice (and rare) addition to anyone's collection of Rootes-related miniatures.
Of course, in 1964, coincidentally the same year the Imp was introduced, the American Chrysler Corporation bought a major portion of Rootes stock; by 1967, the Rootes family was shut out of their company and the Rootes Group thereafter became a wholly-owned subsidiary of Chrysler. Some cars disappeared almost immediately upon the Chrysler takeover and one of the most famous to do so was the Ford-powered Tiger which was followed soon afterward by Rootes' best-known product-- the Alpine. Slowly, the individual brand names faded from the scene and eventually all of the cars produced in the old Rootes factories wore the Chrysler name. Yet in 1978, the one powerful Chrysler found itself in much the same sort of financial distress as Rootes had been in earlier and hurriedly sold off it European assets (including its French Simca branch) to Peugeot. Today, the old Rootes manufacturing centers, once the home to Hillman, Humber, Sunbeam, Singer and Commer, build Peugeots that in no way allude to the history contained within the walls where they are bolted together.
At least we can collect the Rootes Group in miniature; it was a company whose products were certainly worth remembering. Below is a listing of 1:64 scale models of Rootes vehicles.
Fun-Ho! 15 Hillman Imp (New Zealand)
Husky 19 Commer Walk-Thro Van (Wales)
Husky 26 Sunbeam Alpine (Wales)
Johnny Lightning Sunbeam Alpine [Tiger] (China)
Matchbox 21 Commer Milk Float (England)
Matchbox 43 Hillman Minx (England)
Matchbox 47 Commer Ice Cream Canteen (England)
Matchbox 50 Commer Pick Up (England)
Matchbox 62 Commer Television Service Truck (England)
Matchbox 69 Commer 30 Cwt Van (England)
Bibliography:
Sedgwick, Michael and Gillies, Mark. A-Z of Cars 1945-1970. Bideford, Devon, England: Bay View Books, 1993.