Wacky Racers
by Doug Breithaupt

Having a four year-old in the house is a great way to keep young. My son, Bentley is like most children his age, fond of cartoons. Recently, we were setting up his race track playmat and I asked what kind of race cars he would choose from his collection for the race. Usually he selects F1 or sport/GT type cars but he said, "Dad, I want to have a wacky race." It seems he had been watching a cartoon from the 1970's where a collection of wacky racers compete over a series of likewise wacky race courses. Dick Dastardly and Mutley his dog always try to cheat to win, and of course never do. Bentley's recent purchase of the new Hot Wheels Hot Seat had inspired him to re-create the wacky races for himself.
Wacky racers are not new to diecast. Almost entirely in 1:64 scale, these are hot rods with a twist. Usually my collection focuses on realistic production or race cars but over the years I have picked up an assortment of 'custom' cars. These cars tend to fall into several catagories.

Traditional hot rods (like the '32 Ford 'deuce' coupes and Model 'T' high-boy roadsters)
Futuristic custom cars (like turbine or nuclear powered cars with sleek body work)
Cartoon cars (featuring cartoon characters at the wheel or cars from cartoons)
Production customs (post-war cars with massive engines or wild body alterations)
and Wacky Racers
My defination of Wacky Racers is cars that are almost cartoonish in appearance but not from actual cartoons. Often Wacky Racers are planes, trains or even toilets, made into custom cars. Of course there is no perfect defination here, you know them when you see them. These are toy cars that make you smile. Some are models of actual creations by Barris or other customizers. Others came directly from the fevered brains of diecast designers, most likely the results of a steady diet of sugar and caffine. First and foremost, wacky racers are fun.
.
.


Nine wacky racers have been selected from my collection to illustrate the catagory. The first three have aviation aspirations or inspirations, as the case may be. The first is a true classic and one of the best known of all Hot Wheels, the Red Baron (1969). Not modeled after an actual car, the Red Baron was one of Hot Wheels biggest hits of the early 1970's and later a full-sized version was created. Early editions had a spike on the helmet but it was later removed for safety reasons. It was later released as a 25th anniversary model. Complete with twin machine guns and an iron cross on the radiator, this is one of the best wacky racers. The second in this series comes from Matchbox. In the 1970's, Matchbox followed Hot Wheels' lead with a wide variety of custom cars. Few qualify as wacky racers but one stands out for me. The Mini Ha Ha (#14, 1975) is a wild custom of an actual car, the Austin Mini. At the same time the cartoonish proportions, including the helmeted driver, and radial aero-engine are just wacky enough for me. The third aero-car is a new Hot Wheels release. The Dog Fighter (1996) is a wingless plane with four wheels, another radial aero-engine and propeller. The graphics are great, especially the most recent black and yellow version. The number of 'kills' are represented on the side with tiny dog bones.
.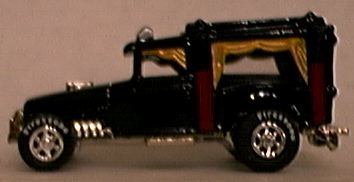 .



The second set of wacky racers are also following a theme. The first two are from Johnny Lightning, part of the 'Frightning Lightning' series of 1996. My favorite is the Boothill Express. The George Barris custom is exceptionally well done in small-scale. This hearse is a hoot. The V8 has what must be the tallest velocity stacks of all time and the eight exhaust pipes are clearly detailed. With real rubber tires and mag wheels, this is a great wacky racer. The second car from the same series is the Vampire Van. Complete with a casket in the back, Dracula would be the darling of the drag races in this delectible diecast. The third of these gruesome go-carts is a 1994 offering from Hot Wheels. It features a wheeled coffin, complete with skull headlights and a bat on the nose. The usual V8 hot rod engine appears to have a blower attached ahead of the radiator. This car would not only let you go in style but it would also get you to the pearly gates in record time.
.
.


The last set is a mix of favorites. The companion to Hot Wheels Red Baron was the Paddy Wagon (1969). This dual-carbed V8 could make even the Keystone cops look good. Based on another real custom, this is the ultimate police cruiser. Just as much fun is Hot Wheels' Radio Flyer from 1998. This little red wagon could be a real paper route power house. I love the steering handle, complete with instrumentation. It makes you want a real one. Last is the latest from Hot Wheels, the un-disputed king of wacky racers. The Hot Seat is everything a wacky racer should be. This seat-of-ease is perfect with a plunger steering wheel that moves when you lift the seat, twin TP rolls for quicker pit stops and a hole in the bowl, just like at home. Of course it's rear-engined with a motorcycle motor in the tank.
So who would you put your money on in this wacky race? Perhaps you have a favorite wacky racer from your collection, if so let me know. Send me an image and I'll share it with everyone. As a side-note, Johnny Lightning has done two of the actualy wacky racers from the cartoon (Dick Dastersly and Penelope Pit Stop) but as they are actual cartoon cars, they fall in the other catagory. With the recent new offerings from Hot Wheels, it appears that wacky racers are going to delight a lot more four year-olds and a few of their parents too.