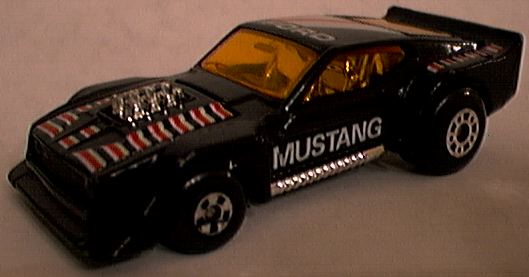 1971-73 Mustangs in 1:64
by Doug Breithaupt

The Ford Mustang is one of the most popular choices for production by diecast manufacturers. By far, the most common years to be represented are the 1964 1/2 to 1970 Mustangs. The next generation, 1971-73 Mustangs, are considered less desirable on the collector market and far fewer have been done in miniature. Several recent additions to my collection gave me a reason to look at the variety of '71-'73 Mustangs that have been produced in 1:64 scale over the years.
Perhaps the best known is the Matchbox version of this model. Offered in 1972, over the next few years it came in a variety of colors including yellow, orange and green. A special 'Piston Popper' version was done with four visable piston that moved up and down when the wheels turned. The green Cobra with white stripes is shown, a limited edition run. It has a chrome interior, tinted glass and opening hood. In 1983 a new variation appeared. The IMSA Mustang added huge flared fenders and larger rear spoiler. The black example shown is one of the early colors and this casting has continued in use into the mid-1990's.
More recently, Johnny Lightning has offered the '71-'73 Mustang in two different examples. The first is a Mach 1 stock version, #725, that has been used for the Mustang and the James Bond series. The Bond car is red like the movie version but a 1999 release in orange is very nicely done and features real rubber tires. The second example is the 'Blue Max' funny car of Raymond Beadle, 1995. Offered in blue as well as a variety of other colors, the green version is shown.
Yatming's Boss Mustang #1024, was clearly based on the Matchbox model, prehaps even copied. It also has a chrome interior and is a very close match at a slightly smaller scale, a tell-tale sign of a copy. It even has the rectangle on the hood where the Matchbox engine is exposed but Yatming simply blanked it off. Over the years, Yatming has 'borrowed' other castings from Tomica and others so it may have happened here. Themajority of Yatmings castings are originals.
.
.


Ertl also did this Mustang. The dark red color is the only one I have seen and the opening doors are always ill-fitting. Otherwist, the detail is generally good. The recent addition I mentioned is quite rare in the US and was done by Siku. It is identified as a Ford T5 Mustang Mach 1, #V330 and features opening doors. The T5 designation is a mystery to me. Were some Mustangs imported to Germany with this identification? The colors and proportions leave a lot to be desired but it is always interesting to see European versions of US cars.
Some models may have been missed in this review. Let me know if you have others and send an image to share.