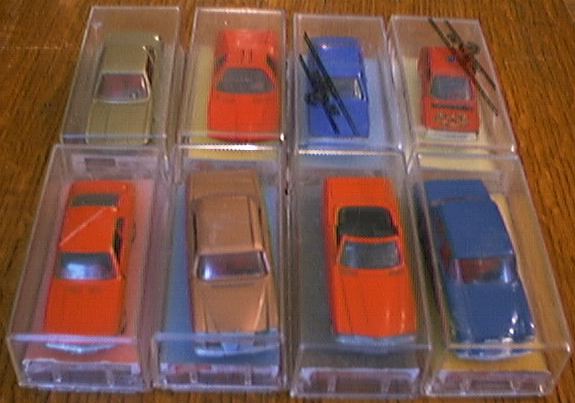 German Gems
Small-Scale Schuco Diecast
story by Brian Willoughby
images/model list by Doug Breithaupt

The arrival of Mattel's Hot Wheels forever changed the world of diecast. In their wake, once mighty brands such as Dinky, Corgi and Matchbox quickly lost market share and eventually succumbed. Nevertheless, in all this turmoil, several brave toymakers were inspired to launch their own unique lines of miniatures. Competitors to
Hot Wheels arrived from every corner of the globe: Topper introduced their short-lived and American-made Johnny Lightning series, Tomica debuted their high-quality Japanese models and the time-honored German-based Schuco unveiled its 1:66 scale 800-series models.

The truly perplexing aspect of many of these lines of models being concurrently introduced was their accuracy as true scale models. Logical product planning would seem to dictate that any new series miniatures made by anyone should be patterned after Mattel's phenomenally successful fantasy-inspired diecast toys. Topper, the brand of toy cars most similar to Hot Wheels, entered the war only to be killed in action. Tomica's miniatures are still in production and their direct appeal in Asian markets has kept them a top selling brand outside of the U.S. and Europe. However, Schuco's brave 800-series was left to suffer a prolonged and somewhat agonizing death on the toy shop shelves.
The 800-series featured some of the best engineering ever seen in small-scale diecast cars: the front doors opened on most every model, the baseplates were all metal, never plastic, interiors were highly detailed and frequently featured diecast steering wheels! The models wheels were one of the best blends of the frictionless design pioneered by Mattel and realism: the wheels featured separate chromed covers which added a great touch of authenticity while also speeding along the floor or race track. Typical of the loud and gaudy colors seen on actual cars during the 1970s, the 800-series came sprayed in paints that, while sometimes ugly, were "just like the real thing."
Often compared to Tomica's miniatures, the Schuco 800-series certainly shared some likenesses with their Japanese counterparts. During
the early years, Tomica produced only models of Japanese cars; Schuco turned out only models of German cars until nearly the series end. Tomicas were packaged in distinctive black-and-yellow boxes that had been obviously copied from Lesney's packaging; Schuco, however, offered its models in small plastic cases. The Schuco cases featured an upper, clear plastic "bubble" that opened at the bottom by removing a clear plastic base. Molded into the cases were the trademarked Schuco script and the words "Made in West Germany" and each model was presented with a small piece of paper which carried the model's name and catalog number along with a list of other models that you would certainly want to add to your collection (see image above, left). Inserted in the base of the case was a small piece of foam which should have keep the models from moving
about; with time, the foam decomposed leaving the models to freely roll around in the hard plastic case which invariably rubbed and scratched their roofs. Today, it is very difficult to find a mint-in-case Schuco model that does not suffer from moderate to severe paint wear on the roof; in fact, many collectors might prefer mint loose models that have no signs of case wear.
In total, almost 100 models were produced in the range, many of which being the only representations of specific cars in small scale. Models shown to the left include several of these like the beautiful Mercedes 205 CE. Of course, a good number of these unique Schucos, such as the extensive BMW, Opel, Porsche, Mercedes, Cologne-built Ford and Volkswagen offerings are very popular with collectors seeking out models of
specific cars no one else ever made. With their inherent quality, came a rather steep retail price which meant that 800-series Schucos frequently languished in toy and model shops for years before landing on the "clearance" table where they were bought by frugal parents for children who would eventually destroy these German creations in favor of preserving their Hot Wheels.
The Schuco 800-series remained on the market for less than a decade yet they are finally receiving some of the respect they always deserved and now they are being very actively collected. Today, mint-in-box Schuco 800 Series diecast sell from $10 on up depending on the level of interest in a particular model. In an interesting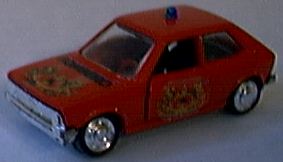 footnote, the demise of the 800-series coincided with the bankruptcy of Schuco itself yet it did not spell the end of the models themselves. Both Norev of France and REI of Brazil purchased many of the former Schuco dies and continued to produce the models for several years with minimal changes; in fact, Rei catalogs suggest that at least 36 Schuco-based models were offered. The illustrated list on the left is from REI of Brazil.
So next time you are at a toy shop, take a look around for the Schuco 800-series. After all these years, you may find that they are worth a second look.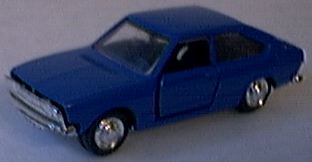 Images
Top left: Eight Schuco and REI models shown in their clear plastic cases
Left column: Folding display list of REI produced Schuco models
Right column from top to bottom: BMW 2800 CS (Schuco # 815), BMW Turbo (REI #1864), Opel Manta GT/E (Schuco #849), Mercedes-Benz 350 SL Cabriolet (Schuco # 844), Mercedes-Benz 250 CE (Schuco # 820), Mercedes-Benz 200 (Schuco # 805), VW Golf Bombeiro (REI #2882), VW Passat LS (REI #1867)
Schuco 800 Series Model List (based on lists provided in Schuco model boxes)
805 Mercedes 200
806 Mercedes 200 Police
807 Ford 20 M
808 BMW 1600
809 BMW 2002
810 Ford Escort 1300 GT
811 Opel Commodore GS
812 VW 411
813 Porsche 911 S
814 Opel GT 1900
815 BMW 2800 CS
816 Ford Capri 1700 GT
817 Audi 100 LS
818 VW 1302 S
819 Opel Admiral 2800 E
820 Mercedes 250 CE
821 Audi 100 Coupe
822 Opel Commodore GS RC
823 Mercedes 200 Taxi
824 Feuerwehreinsatzw.
825 Porsche 911 S Police
826 VW Porsche 914
827 VW Porsche 914/6
828 Mercedes C111
829 BMW 2500
830 BMW 2800
831 VW K70
832 VW 1302
833 VW 1302 ADAC
834 Ford Capri XL-R
835 Porsche 911 S Renn-Version
836 VW Porsche 914/6 Renn-Version
837 Ford Taunus GT Coupe
838 Ford Taunus XL Coupe
839 Opel Manta Coupe
840 Ferrari F2
841 BMW F2
842 Matra-Ford F1
843 Gulf-Porsche 917
844 Mercedes 350 SL Cabrio.
845 BMW 2002Tii
846 Opel Asc. Voy.
847 Brabham-Ford BT 33 F1
848 Opel GTJ Sportwagon
849 Opel Manta RS
850 Renault R16 TS
851 Ford Escort Rally
852 Audi 100 GL
853 Renault R17 GS
854 Martini-Porsche 917