The Dodge Charger - A small-scale celebration
story by Doug Breithaupt

The Dodge Charger has been a favorite of collectors for many years. It is popular in every scale from 1:1 to 1:64. With news that Daimler-Chrysler has given the green light to a new Charger for 2002, interest in Dodge's popular muscle car is sure to increase.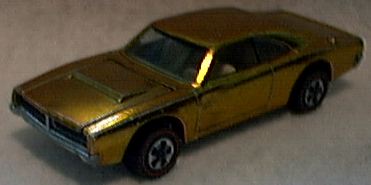 Over the years since the first Charger was offered in 1966, a variety of small-scale diecast versions have been offered. I found a baker's dozen in my collection. We can begin with the oldest example, a 1968 model by Hot Wheels. While it is labeled as a 'Custom Charger' the custom is a mild one with the hood showing a non-stock air scoop. This is one of the heaviest of the early Hot Wheel muscle cars and was very fast at the orange track drag races. It is also one of the more difficult and desirable of the early red-lines to find.
Several 1969 Chargers are available. Johnny Lightning has a fine example in their Muscle Car series. Shown here in gold, it has an opening hood. Johnny Lightning also offers a Charger Daytona in their classic stock car line-up (not shown). The Daytona has provided Hot Wheels collectors with one of the recent offerings, shown here in red. The casting seems a bit narrow but that seems to be a common Hot Wheels trait. Racing Champions also has a stock car version of the '69 Daytona (some consider it a '70). The last '69 is the Matchbox Charger funny car. This is a very nice casting and it is a shame it was never offered in stock form. The 'Orange Peal' version is the best looking of the different colors offered over the years.

.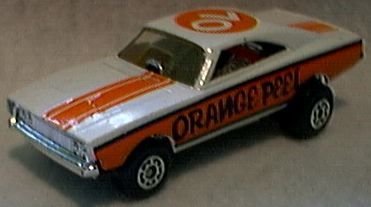 .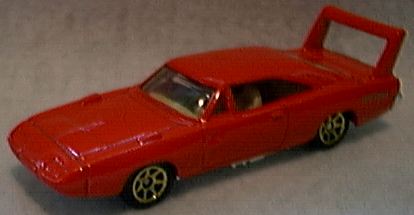 '69 Charger by Johnny Lightning - '69 Charger Funny Car by Hot Wheels - '69/'70 Charger Daytona by Hot Wheels

.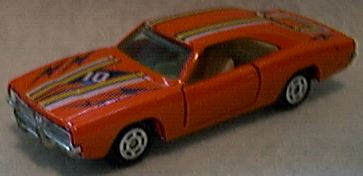 .

'69/'70 Charger Daytona by Racing Champions - '70 Charger by Yat Ming - '70 Charger by Zee Toys


One of the most famous diecast Charger models is the '69 'General Lee' Charger done by Ertl as part of the Dukes of Hazzard TV cars. Recently re-issued, this is a favorite of collectors. The mint-in-package example shown here is the original casting. Both Yat Ming and Zee Toys of Hong Kong did '70 Charger models. The Yat Ming example features opening doors and is particularly nice. The Zee Toys version appears to be a 'General Lee' wanna-be with stars and bars decos. All of these second-generation 1968-70 Chargers are nice but I wonder when someone will do the first-generation 1966-67 model?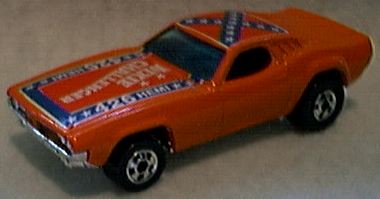 What has been done is the third generation 1971-74 Charger. For many years the only example of this car was a rather comic 'Dixie Challenger' version by Hot Wheels. The color scheme shown leaves little doubt that Mattel was also trying to cash in on the 'Dukes of Hazzard' success. Johnny Lightning has once again filled in this gap with an excellent '73 Charger. Offered in the 3rd series of Muscle Cars, the '73 represents a shift from muscle to luxury. The detail is especially nice on this blue and white example, right down to the real-rubber white wall tires. With opening hood and chrome wheels, this is a great model of a seldom done car.
.
.

'83 Charger by Hot Wheels - 1984 Charger Shelby by Zee Toys - Charger Mark III by Matchbox

The Dodge Charger continued from 1975 to 1977 as a more muscular version of Chrysler's Cordoba. No 1:64 scale diecast models of these cars exist. In 1978, the Charger name was dropped in favor of the Magnum name. For 1980-81 it became the Mirada. Both the Magnum and Mirada have been done but this is a Charger story so we will save those for later. In 1983, Lee Iococca brought the Charger back. It was on the Dodge Omni platform and replaced the 024 of 1982. A 1983 Hot Wheel 'Turbo Heater' was offered and appears to be the 1983 Charger. In 1984, Carroll Shelby offered his version of the Dodge Charger Shelby and an even more exclusive Shelby Charger version. Zee Toys did a Charger Shelby is 1985. The model shown has a pull-back motor.

One final Charger is the Mark III show car done by Matchbox in 1972. The entire canopy tilts back for entry and it is easy to see that Dodge was aiming at the Corvette with this dream car. Too bad it did not become a Viper for the 1970's. The new Charger show car has not been done yet but now that production is confirmed, you can bet it will arrive in 1;64 scale soon. Of course it is a four-door sedan, based on the Chrysler 300M platform, so it may not prove quite as popular for modeling. We will add that chapter of the Charger story down the road.