Cute as a... bug - VW Beetles in 1:64 scale
story by Doug Breithaupt

The VW Beetle is most likely the first car that most young children can recognize and name. My four year old son calls them all "Herbie cars" and my niece calls them "slug bugs," pointing out every one we pass on the road. What other automobile has this level of recognition, none. Along with McDonalds and Walt Disney, the VW Beetle is one of the earliest corporate images to be marked forever in our children's minds. The difference is that VW does not need to spend the marketing dollars that Disney or McD's do in order to achieve this end. Kids just love the Beetle when they see it on the road.
Of course, they don't just see it, soon they have one of their own. Not full size, that may come later. Is there a toy box in in North America or Europe without at least one toy VW Beetle? Without question, the most common subject for toy cars of all sizes has been VW's classic sedan. While it has been produced in all sizes and colors, the most common toy Beetle has been in diecast 1:64 scale form. It is a bit daunting to attempt to review all of the toy Beetles produced in this scale so I will freely admit that the following review is almost certainly incomplete.
To begin, most small-scale VW Beetles fall into three groups. They are either in stock form, a racing variation or a custom version of this evergreen classic. Often diecast manufacturers have done the Beetle many times over the past 40 years. With a popular new Beetle on the roads while the original is still being produced in Mexico, the VW Beetle as a toy car is nowhere near slowing down.
Which diecast manufacturer has done the most Beetle variations in 1:64 scale? The winner seems to be Matchbox. From the first VW 1200 model, #25 of 1960 to the latest Concept One (new Beetle as a show car) #49/58/17 of 1996, six different castings have been offered. Filling in between are the 1500 (#15-D,E) of 1968. In 1970 it arrived with Superfast wheels. This casting is as close as Matchbox came to doing Disney's Love Bug. Done in cream with a rally plate and numbers on the door, for thousands of children like me, it was close enough. Curiously, even with the recent rash of movie star cars from Matchbox and Johnny Lightning, Herbie the Love Bug has not appeared in 1:64 scale. How did Corgi or Ertl ever miss this one in the 1970's? Next is
the 'Volksdragon' (#31) of 1971, also offered as 'Hi Ho Silver' (#15) in 1981 and as the 'Sand Digger' or 'Dune Man' (#49) in 1983, with t-tops cut into the roof. This is basically a Baja Bug variation with a V8 motor stuffed in the back. Following closely in 1972 was 'Flying Bug' (#11), a custom job with an airplane tail-fin and helmeted German-type driver. An iron-cross decal on the hood completed the look. Number five is one of the wildest VW's, the 'Beetle Streaker' or 'Hot Chocolate (#46). This is a Beetle funny car drag-racer, complete with tilt-up body. The sixth Matchbox casting was offered as part of the Connectables series of the early 1990's. Offered as a Baja Bug with exposed rear engine, this plastic-bodied car is a split-window VW and can be snapped apart and connected with other car parts from the series.
Close behind Matchbox with four different VW Beetle castings, is Hot Wheels. Right from the start in 1968, a custom VW (#6220) was part of the original line-up. Distinctive features include an exposed V8 up front and a sliding sun-roof. This same casting was later offered without the sun-roof, in orange with a lady-bug on the roof. The second Hot Wheels is the wonderful 'Evil Weevil' (#6471) of 1971. While it offers the same V8 up front as #6220, it offers another in the rear. The custom body work and side racing numbers make it clear this is no street machine. Not until 1984 does Hot Wheels offer another Beetle. This time it is the 'Baja Bug' (#5907), complete with off-road air scoop, open roof and exposed rear-engine. It is still in production. The most recent Hot Wheels' Beetle is the only stock version. Simply identified as a VW Bug (#7671), it was produced in 1989 and also continues today.
You might be surprised by the next manufacturer, also with four VW Beetle castings. Siku has been producing diecast vehicles since the early 1960's. You won't find wild custom cars from Siku, they tend to stick to stock. Siku first did their Beetle, the VW 1200 in 1964 (#V231). This is one of the best diecast VW bugs ever done in small-scale. The styling is excellent and the light blue looks show-room perfect. The crowning touch is an opening engine cover with the VW air-cooled four, there to see. Gem-like headlights round off this wonderful little model. Siku offered the VW 1300 (#1022) in 1975. While it does not have engine detail, it does have opening doors. In 1989, Siku offered a Cabriolet version of the Beetle, a 1303 LS (#1077). In 1990 they offered a revised hard-top casting of the same 1303 LS (#1078). In addition to the top, this version comes with opening doors while the Cabriolet does not. All of the Siku models are of excellent quality.
Several manufacturers have done two versions of the Beetle including; Tomica, Zee Toys, Corgi and Norev. Tomica has done both the hard-top and Cabriolet versions of the VW 1200 (same #F20), first offered in 1977. While the quality of each is up to Tomica's usual fine standards, the Cabriolet is especially charming. Complete with wing-windows and sun visors, this one is cute as a bug. Zee Toys did a Cabriolet VW 'Custom Bug' (#D106) and a 'Baja Blaster (#D100). An earlier stock sedan was also offered. The quality of these is not as high but the charm is there. Both may still be offered by Red Box who bought out Zee Toys several years ago. Corgi offered a stock, Husky labeled VW 1300 as #20-B in 1968, re-issued as a Corgi Junior in 1970. It has luggage on the top. A two-engined VW hot rod was offered as #160-A in 1982. Norev of France did two versions, the 1300 (#613) and the 1500 (#604).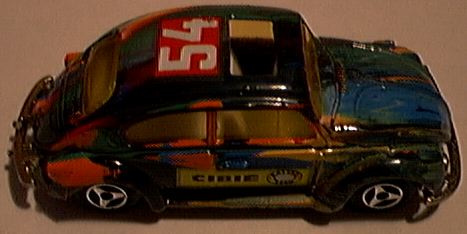 Single examples of the venerable VW Beetle come from Johnny Lightning, Playart, Real Toy, Majorette, Ertl, Guisval (#23), Maxwell (#10), Migetoy, Schuco (#818), Tootsietoy, Yat Ming (#1009) and a variety of generic versions. A new VW Beetle (#DCMB) has just been offered by Schylling of Ipswich, MA. Is is very well done with rubber tires and a wind-up motor. The Johnny Lightning 'Bug Bomb' was one of the original Topper cars and became one of the first Playing Mantis re-issues in the 1990's. Another double-engined custom, this one also features six exhaust pipes. The Playart VW Bug is becoming hard to find and represents the stock 1300 model. One of the most amazing VW Beetles comes from Majorette. Offered as #202 with opening bonnet and as #203 with non-opening bonnet, this excellent model comes with an open sun roof and dual exhaust. One example is in what appears to be rally form with the number 54 on the top and Cibie decals on the doors. What makes this version entirely unique is the color of the car. It is done in a wild color scheme, not unlike some of the BMW art cars. I have no idea how this paint technique was achieved on a diecast car of this scale. It is beautifully done and may be quite rare as i have never seen another. The Majorette Beetle is still in production and is usually seen in a normal colors. Ertl did a stock version of the Beetle and a Tweety-Bird version as part of their cartoon series cars. The generic 'made in China' Beetles include one that reads "40 and getting in gear" and a clear, see-through version that has a wind-up motor which reverses direction when it bumps a wall.
There have certainly been many more VW beetles in 1:64 scale but this exhausts my collection. With the new Beetle due out in Cabriolet form, many new offerings should be seen soon. The Beetle will continue to make both children and adults smile. As long as it does, toy car makers will be happy to help Volkswagen with their marketing.
VW Beetle Values
model - number - year produced - value
(all values are for regular-issue, mint-loose examples)
Matchbox
VW 1200 #25 1960 - $75
VW 1500 Saloon #15 1968 - $15
VW 1500 Saloon #15 1970 (Superfast) - $20
VW Volksdragon #31 1971 - $12
VW 'Flying Bug' #11 1972 - $15
VW 'Beetle Streaker'/'Hot Chocolate' #46 1982 $5
VW Baja Bug (Connectables) 1992 - $5


Hot Wheels
Custom VW #6220 1968 - $20
Evil Weevil #6471 1971 - $40
Baja Bug #5907 1984 - $2-10 (depends on color and age)
VW Bug #7671 1989 - $2-5 (depends on color and age)
Siku
VW 1200 #V231 1964 - $35
VW 1300 #1022 1975 - $20
VW 1303 LS Cabriolet #1077 - $3
VW 1303 LS hard-top #1078 - $3


Tomica
VW 1200 Cabriolet #F20 1977 - $20
VW 1200 hard-top #F20 1977 - $12

Zee Toys
VW 'Custom Bug' Cabriolet #D106 1990 - $3
VW Baja Blaster #D100 1990 - $3

Corgi Juniors (Husky before 1969)
VW 1300 #20-B 1968 - $15
VW Hot Rod #160-A 1982 - $15


Norev
VW 1300 #613) 1970 - $15
VW 1500 #604) 1975 - $10

Johnny Lightning - VW Bug Bomb (Topper) 1970 - $40, (Playing Mantis) 1992 - $4
Playart - VW 1300 1972 - $10
Real Toy - VW Beetle 1996 - $1
Majorette - VW 1302 #202/203 1974 - $2-8 (depends on age, currently produced)
Ertl - VW Beetle 1980 $5, Tweety VW Bug #959 1988 $10
Guisval VW Beetle 1975 #23 - $8
Maxwell VW Beetle #10 - $6
Migetoy VW Beetle - $15
Schuco VW 1300 #818 1970 - $25
Tootsietoy VW Beetle - $20
Yat Ming VW Beetle #1009 1975 - $2-5 (depends on age, currently produced)
Schylling new VW Beetle #DCMB 1999 $2