Mini Racers, Turbo Treads, Motor Works and Road & Track Miniatures: The Many 1:64 Scale Models of Maisto
story by Brian Willoughby
photos by Doug Breithaupt

While searching through dime stores during the middle to late 1980s, diecast collectors often encountered a new brand of models produced by MC Toys and marketed under the name of "Mini Racers." At first glance, the models could be and often were dismissed as yet another line of cheap, low quality toys directed more toward children than collectors. Yet something was different about these "Mini Racers."
On close examination, the MC Toys miniatures revealed themselves to be true scale models with a level of accuracy and detailing that rivaled contemporary Matchbox pieces. Paint quality was nearly as good as that on "big name" brands, the models featured full interiors and window glazing and they all clearly stated the make of car on the baseplate. Unlike so many other cheap brands pouring out of China both then and now, the Mini Racers were licensed and/or approved models, so none of the usual distortion and corruption of the real car's shape performed to avoid paying royalties was necessary. Even the packaging was of a higher standard than most "five and dime" brands and each car was presented on a quality paperboard card with a blue colored front and listing of all the other models on the back. The only real letdown about the line was its universally poor quality wheels which looked to have been directly copied from a Matchbox design.
The variety of models offered was also unexpected and it featured a well-selected range of European, Japanese and American makes, many of which were never produced by any other company in 1:64 scale. Of course to be fair, the lineup was curiously somewhat more skewed in favor of European cars which delighted some collectors while infuriating others. And many of the complaints were justified: why did the range feature three Peugeots rather than perhaps a few more English cars or a Saab and why were American cars almost completely neglected? Apparently, Europe must have been seen as a crucial market to break into. Furthermore, several agreements with various companies to market the models under other names may have sometimes led to requests for certain cars that would be popular in distributor's specific markets.


from top left, moving across: F1 Racer, Indy Racer, Lancia Monte Carlo, Volvo, Trabant, Mercedes 500SL, Chrysler Sebring, Dodge Dakota, Dodge Durango,
Ferrari 250GTO, 365GTB/4 &308GTB, Mercedes 500SEC, Mercedes 260SEL, Merecedes 500SL, Dodge Copperhead, Dodge Viper GTSR & GTS
Ferrari Testarossa, Ferrari F40, Ferrari 348, Mercedes C-Class, Mercedes SLK, Mercedes CLKGTR, Plymouth Pronto Cruiser & Spyder, Plymouth Prowler
Ferrari F50, Lamborghini Countach, Lamborghini Diablo, Mercedes CLK cab., Mercedes S-Class, Mercedes ML320, Ford GP, Suzuki SJ4130, IRL Racer
---


In the meantime, May Cheong (MC's parent company and hence the abbreviation) was introducing a line of 1:18 scale models under the trade name of Maisto that would set the standard for price, accuracy and quality for all other manufacturers to follow. Around this same time, the MC Toy trademark was dropped in favor of the universal Maisto brand name for all products, including the Mini Racers. Yet May Cheong didn't stop there: the Mini Racers received new white blistercards (which continued to list all the numerous models on the back) and were renamed "Maisto Turbo Treads." The only real difference between the new Turbo Treads and the former Mini Racers was the alteration of the baseplates: whereas the Mini Racers carried the MC Toy logo, the Turbo Treads displayed the unique Maisto script. In spite of all the changes, no new models were added to the lineup which by this time was showing its age with several miniatures of less-than-classic cars that were now out of production.

Despite its advanced age, the series was revamped one more time with the models appearing in new colors and packaging. Once again, the models' former identity (e.g. Turbo Treads) was discarded and the miniatures were now sold on black and golden yellow cards under the name of "Maisto Motor Works." Depending on the retailer, the Motor Works series could be bought either singly or as double packs with the doubles being a particular bargain at around $1 per package. Eventually, the Motor Works double packs received another facelift consisting of several more color variations yet little more changed until the unveiling of a group of entirely new castings.

Perhaps encouraged by the enthusiastic response of collectors to the Motor Works double packs, Maisto tooled up several new castings to make the series once again interesting and once more changed its name. Now the series appeared under the licensed name of the famous American automobile enthusiast magazine "Road & Track" with no series name. Of course, the models were still the outstanding miniatures that May Cheong had been producing for years. Unfortunately, the wheels were never upgraded during the many packaging changes and almost every model still wore the same old wheels that the very first Mini Racers did.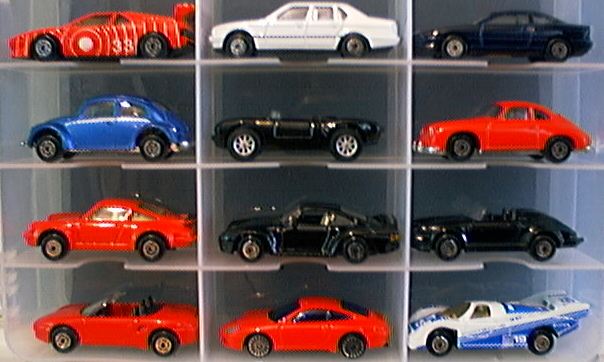 from top left, moving across: Peugeot 205, 309 & 405, BMW M1, 750il & 850i, Lincoln Continental Mk. VII, Mustang Mach III, 1999 Mustang Coupe
Citroem 2CV, Renault 25V6, Rolls Royce, VW 1300, Porsche 550 Spyder & 356, Pontiac Firebird (1980) & (1985), Corvette Coupe (1978)
Jaguar XJ-S, XJ220 & XK8 Conv., Porsche 911 Turbo, 959 & (1989) Speedster), Chevrolet Corvette C4 coupe & convertible, Corvette C5 coupe
Ford Granada 2.8, Ford Van, Ford Escort 1.6i (police), Porsche Boxter, 911 Carerra & 956, Buick LeSabre, Chevrolet Monte Carlo, Chevrolet Caprice NYPD
---

Recently, a new group of models has been introduced in the Road & Track series that have generated mixed reactions among longtime fans. At long last, May Cheong has seen it fit to introduce some new wheels on the models; however, the new wheels are perhaps even uglier than the ones they replaced. Nevertheless, the biggest disappointment is the complete lack of interior moldings on many of the castings. In a futile attempt to "hide" the fact that these models have no interiors, May Cheong has installed an extremely dark blue window glazing in the models. It is a cheap and hardly cleaver ploy to cut costs on the models that may in the end cost the company the patronage of many former enthusiasts. Of course and just like before, the castings are both detailed and accurate with many models of cars that no one else has even taken the time to bother with. Let's hope that the tradition of these fine models will be upheld and that the next batch will be more like the original Mini Racers and Turbo Treads.

So take the time to look these miniatures over a second time. You may be surprised at the level of quality at the price. What will the future mean for these toys? At the present it is hard to say, though consider that some of the earliest Mini Racers that are now discontinued are extremely difficult to find in any condition--and these are models that are just slightly more than ten years old. Probably the best parallel that can be drawn is to brands that in their day were considered "lesser" makes: both mint Playart and Zylmex models are rare today and frequently bring surprisingly high prices among collectors. Could May Cheong's miniatures share a similar future? For now, we will simply have to wait to see.

Editor's Note: First, let me thank Brian for this excellent review of Maisto's 1:64 scale cars. He mentions that Maisto has also allowed their castings to be used by several European manufacturers. One in particular is Edocar of Holland. Many of the cars pictured are Edocar versions of Maisto models. Edocar often uses unique colors, such as those seen on the Ferrari 365GTB/4 (white) and the Peugeot 405 Turbo 16 (gold). Some of these Edocar/Maisto castings have not been offered in the US, such as the Mercedes 500SEC and Rolls Royce. Edocar models also include castings from other manufacturers like Real Toy. Edocar has even produced some of their own castings, including a nice Mini Cooper. Watch for a future story on Edocar.


Brian also notes that Maisto has done a variety of unique castings and often provides very realistic colors. Regular readers may be aware that I do not collect 1:64 trucks or equiptment as a rule. Recently, I found myself in violation of this self-imposed rule and Maisto was to blame. Below the list that follows are the last set of 12 photos and four of these represent a Maisto 5-pack done as U.S. Forest Service vehicles. Included are a Ford Explorer, Bulldozer, Fire Pumper and Ambulance (the Bell Jet Ranger Helicopter is not pictured). The colors are correct forest service green and they all bear the U.S. Forest Service insignia. These are completely unique in featuring the Forest Service connection and a great set. For about $4, I could not resist, even if it broke my rule.
Maisto has recently re-issued many of their vehicles in a new 'Tonka' series. One of the packages is pictured at the beginning of this article and the purple Ford GP shown above is also from that series. Use of the 'Tonka' name is licensed from Hasbro and is a sharp move by Maisto to cross-market their products. I also agree with Brian that Maisto is harming themselves and their relations with collectors through their recent move to drop interiors and to tint windows. Any cost savings cannot be worth the loss in perceived value and quality. I really like what Maisto has done from 1:64 up to 1:12 scale. Please, give us back our interiors and clear windows. While your at it, fire whoever has been in charge of wheels.

Below is a listing of all May Cheong miniatures produced to date; where known, the catalogue number has been included.
Abrams Tank
Aerial Ladder Fire Truck
Airport Chemical Fire Engine
AM General Hummer
Audi Quattro [8447]
Bell Jet Ranger
BMW 750iL [8742]
BMW 850i [9005]
BMW M1 [8448]
Bradley CFV Armoured Vehicle
Buick Le Sabre Stock Car [8618]
Car Carrier Truck
Chevrolet Caprice Police Car
Chevrolet Caprice Taxi
Chevrolet Corvette (1978)
Chevrolet Corvette C5 Hardtop
Chevrolet Corvette Convertible
Chevrolet Corvette ZR-1 [8617]
Chevrolet Monte Carlo Stock Car
Chevrolet Silverado C1500 Pickup
Chrysler Sebring Convertible
Citroen 2CV [8732]
Denver Fire Pumper
Dodge "Copperhead" Concept Car
Dodge Dakota
Dodge Durango
Dodge Viper GTS
Dodge Viper GTSR
Dump Truck
Ferrari 250GTO [8736]
Ferrari 308GTB [8445]
Ferrari 348ts [9101]
Ferrari 365GTB/4 [9004]
Ferrari F40 [9001]
Ferrari F50
Ferrari Testarossa [9010]
Fire Truck
Ford Econovan [9008]
Ford Escort 1.6i [8449]
Ford Escort 1.6i (police)
Ford Explorer
Ford F-150 Flareside [8739]
Ford F-350 Fire Utility Truck
Ford F-350 Pickup
Ford GP
Ford Grananda 2.8 GL [8451]
Ford Mustang (1999)
Ford Mustang Mach III
Ford School Bus
Ford Sierra XR4i [8441]
Ford New Holland Farm Tractor
Formula 1 Racer [8733]
Honda Accord
Honda Civic Si
Honda Motorcycle
Honda Police Motorcycle
Huges 500 Helicopter
Indy Race Car
Indy Racing League Car
International Armored Car
International Fire Equipment Truck
International Snow Plow
International Utility Van
Jaguar XJS V12 [8613]
Jaguar XK220
Jaguar XK8
Lamborghini Countach [8735]
Lamborghini Diablo [9006]
Lancia Monte Carlo
Lincoln Continental Mark VII
M923 A1 Bigfoot Cargo Truck
Mazda RX-7 [8738]
Mercedes-Benz 500SEC
Mercedes-Benz 260SEL [8615]
Mercedes-Benz 307D Van [8450]
Mercedes-Benz 500SL [8452]
Mercedes-Benz 500SL (1990) [9011]
Mercedes-Benz C-Class Race Car
Mercedes-Benz CLK Cabriolet
Mercedes-Benz CLK-GTR
Mercedes-Benz ML320
Mercedes-Benz SLK
Mercedes-Benz S-Class
MH-60R Night Hawk Helicopter
Nissan 300ZX [8620]
Nissan MID-4 [8737]
Peugeot 205GTI [8611]
Peugeot 309 [8614]
Peugeot 405 Turbo 16 [8741]
Plymouth Pronto Cruiser
Plymouth Pronto Spyder
Plymouth Prowler
Pontiac Firebird (1980)
Pontiac Firebird [8443]
Porsche 356A [9003]
Porsche 550A Spyder
Porsche 911 Speedster [9012]
Porsche 911 Turbo [8444]
Porsche 911 Carrera 4 (1999)
Porsche 956 [8442]
Porsche 959 [9009]
Porsche Boxster
Renault 25 V6 Turbo [8612]
Rolls Royce Silver Shadow
Soda Truck
Stock Truck
Suzuki SJ4130 [8622]
Terex Dump Truck
Toyota Celica GT
Toyota Hilux SR5 [8621]
Toyota MR2 [8619]
Trabant 601 Limosuine [9002]
Tractor Shovel
U-Haul Trailer
U.S. Ambulance
Volkswagen 1302 [8731]
Volkswagen Baja Bug
Volkswagen Golf GTI [8446]
Volkswagen NR1060 [9007]
Volvo 760GLE [8616]
from top left, moving across:
Nissan Mid-4 & 300ZX, Toyota MR2,
Toyota Celica GT, Mazda RX-7, Honda Civic Si,
Army Truck, International Snow Plow, U.S. Forest Service Pumper
U.S. Forest Service Ambulance, U.S. Forest Service Ford Explorer, U.S. Forest Service Bulldozer
---