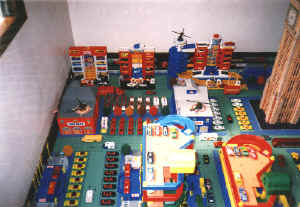 Urban Planning for Toy Cars
story by Deanesh David Nair
INTRODUCTION:
I have been collecting model cars since I was a little boy but I stopped collecting them in my early teens and gave them all away. I started collecting them again about 6 years ago, when I was 22 years old. I am 28 now and I have collected roughly 900 vehicles of all kinds. My only purpose of collecting 1:64 scale model cars is to construct 1:64 scale model cities. I am the first one to do this in my country and I do not know anybody else around the world who are doing anything similar.

Model railroading in 1:87 scale and other scales are common. Model car collecting is common too but I do not see the fun in it by itself because one just collects the cars and it in turn collects dust. I take model car collecting one step further by utilizing the model cars along with the other items used to make up a model city to build model cities that are unique and original because they are in 1:64 scale.


ITEMS NEEDED TO BUILD YOUR OWN MODEL CITY
1:64 SCALE CARS:
Any brand is acceptable as long as the scale is correct and the quality is okay. The brands I have are Matchbox, Hot Wheels, Majorette, Maisto, Tomica, Road Champs, Road Tough, Real Toy, Zylmex, American Highway Legends, Welly, Hasbro, Racing Champions, Siku, Herpa, Ertl, Corgi and Joal models. Almost everything these days are made in China. It is good to have many different kinds of vehicles, like ordinary cars, vans, jeeps, pick-ups, public buses, tour buses, police vehicles, fire department vehicles, trucks, caravans, etc. The variety makes your model city realistic.
PARKING GARAGES AND OTHER BUILDINGS:
Any brand is acceptable as long as it is realistic and not too "childish looking. I have about 70 different kinds of parking garages and other structures like bridges and ferry piers. Matchbox and Hot Wheels have many parking garages and I have numerous other brands from China. Sometimes the parking bays in these parking garages are too small and unrealistic, so I draw my own parking bays on them to ensure the smooth flow of traffic. I use manila cardboard as the base and a black marker pen and a ruler to draw the parking bays and traffic direction arrows. Then I cut the manila cardboard according to the floor shape of the garage and stick it on the garage using good quality glue. This makes the parking garages realistic. I call this "renovating the garages.
THE SUBBUTEO STADIUM:
This is the best and biggest structure available in 1:64 scale to compliment your model city. Subbuteo is actually a miniature soccer game and is made in England. It produces a soccer stadium complete with all the tiny details like the soccer players, referees and linesmen, covered and uncovered stands, the soccer field and goalposts, television crews, real working floodlights, a scoreboard, hundreds of soccer fans, etc. The whole thing is magnificent and cost a few thousand dollars. I have the entire set which I had ordered from Denmark. The only drawback is that the soccer fans come unpainted, so I am currently hand-painting all 550 of them. It is a good skill to learn and practice but it is time-consuming.
PEOPLE:

Unfortunately I cannot find 1:64 scale people. I have to use 1:87 and 1:72 scale people but they are sufficiently compatible. Hornby people are the best because they are well painted, of high quality and realistic as their base is transparent, making them look like they are really standing up on their own. Hornby people are in 1:87 scale and are made in England. Try to buy people that have transparent bases, as they are the most realistic. Any brand will do.
TREES:

Any brand of trees is acceptable as long as the scale is compatible. I use Life-Like trees. They are in 1:87 scale, made in China, very affordable, and most importantly, very realistic and beautiful. The more trees you have, the more beautiful your model city will be. Have a good variety of trees, each type for different areas of your model city.
THE TINY DETAILS:
These items are very important. They consist of bus stops, signposts, street lamps, telephone booths, post boxes, garbage bins, traffic lights, etc. Your model city will not be like the real thing without them. They can be found if you look hard enough and can be of any brand as long as the scale is compatible.
TRAINS:
Unfortunately, nobody makes 1:64 scale model trains. It is okay to use 1:87 scale trains as I find them compatible enough to a 1:64 scale model city. Any brand is acceptable but I use Life-Like as they are the most affordable. They are very realistic and of good quality. You can include a train station, tracks, bridges, and a few locomotives, passenger coaches and freight cars. Remember that the trains are not the main issue here, they belong in 1:87 scale layouts. The main thing are the 1:64 scale vehicles and buildings.
THE RIVER:
This is my own creation and I will share how to make a realistic looking one with you. No model city is complete without a river running through it or some other body of water, like a lake or sea front. Firstly, there must be an embankment. I use ordinary erasers, as they are cheap and very realistic looking. Just buy a few hundred of the same type and you can use them in any embankment. The river base must be blue to bring out the beautiful blue color of the water. I use blue sugar paper as the river base. Then lay transparent blue wrapper that is used to wrap hampers over the blue sugar paper base, and you have your beautiful river. Remember that the blue transparent wrapper must be handled with care because it crumples easily. Add some bridges over the river and some trees lining the river, and you get something very beautiful.
THE ROAD SYSTEM:
I left the most important part for the last. Your model city cannot exist without my road system. I created it myself and it provides the whole base of a 1:64 scale model city. You will need green sugar paper for the roads and blue sugar paper for the sidewalks. You will have to buy a few hundred pieces of them and each is 30 inches by 20 inches in size. You will need blue and red marker pens. The blue ones are for drawing the road markings and the red ones are for drawing the zebra crossings. It all sounds unrealistic
because of the colors, but trust me, you will see that it turns out like the real thing once you give it a try. I have experimented with the road system for many years and I believe I have come out with the best combination possible. You will also need a pair of scissors to cut out the sidewalks from the blue sugar paper and glue to paste the sidewalks over the green sugar paper, which serves as the overall base. Remember that the green sugar paper is for the roads and the blue sugar paper is for the sidewalks. You will need to have lots of practice to make the perfect road system like the ones in my model cities. It will be smooth flowing once you get the hang of it. Practice makes perfect. Good luck.
CONCLUSION:
Please feel free to e-mail me or write to me if you have any more questions. I will be glad to help you create your own realistic and original 1:64 scale model city.
Deanesh David Nair,
35, Jalan Hujan Abu 6, Overseas Union Garden,
Kuala Lumpur, 58200 Malaysia.
Tel: 603-7844627
E-mail: deanesh@pd.jaring.my