1959 Cadillac (Ghostbusters)
by Johnny Lightning



1959 Cadillac (Ghostbusters)
by Universal



1964 Cadillac
by Matchbox



1964 Studebaker Lark Wagonaire
by Husky/Corgi
Wagons in White
story by Doug Breithaupt
Those of you who know me are likely doing a double-take at the topic of this story. It's true, as a rule I do not collect or write about commercial vehicles or trucks. Ambulances are certainly commercial in nature but up until the 1980's most were simply modified station wagons with lights on top. The modern delivery truck styled ambulance holds little interest for me but the older models often represent the only examples of particular makes and models.

The 1:64 scale models represented here are by no means a complete review of all the small-scale ambulances. The represent a selection of Cadillac, Citroen, Mercedes-Benz and yes, even a Studebaker that have both style and charm. This is why they were added to my collection. While I had not intended doing an article on ambulances, my recent article on station wagons seemed incomplete without a look at these wagons in white.

The best known ambulance today must be the star of the 1980's hit, Ghostbusters. Ecto-1 is a 1959 Cadillac Ambulance that has been transformed from saving lives to seeking spirits. Until recently, the best Ecto-1 in small-scale was a diecast model commissioned by Universal Studios and used as a promotion for the movie. The actual manufacturer is unknown but the wheels have a Yat Ming look. It is rather cartoonish in appearance but fun. When Johnny Lightning offered the Ecto-1, it became an instant classic. Not only does it look like the real movie car, it offers all the decals and painted details that make it one great little car.

Another Cadillac ambulance was done by Matchbox in 1965. This '64 Cadillac was produced with regular wheels and later with Superfast wheels. It is the only example of a '64 Cadillac done in 1:64 scale.
Two Citroen ambulances have been produced. Husky, Corgi's small-scale models, offered their Citroen Safari wagon as an ambulance. The model still features the roof rack of the stock Safari but a blue light has been added. Majorette also produced a Citroen DS ambulance that is one of the nicest ever done. It has the raised roof appropriate to a special commercial version of the Citroen wagon. It also has two blue flags from the front bumpers. It has an opening door in the back as well. (I recently found a second one of these if you are interested send me a message via the Guest Book).

Mercedes-Benz ambulances are represented by Matchbox from 1965 and Corgi with a 1985 version. Both are true ambulance castings with raised roofs. While still using the Husky name, Corgi offered a 1964 Studebaker Lark Wagonaire ambulance. it comes with a sliding roof, opening tail-gate and even a loaded stretcher.

1960 Citroen DS
by Husky/Corgi



1968 Citroen DS
by Majorette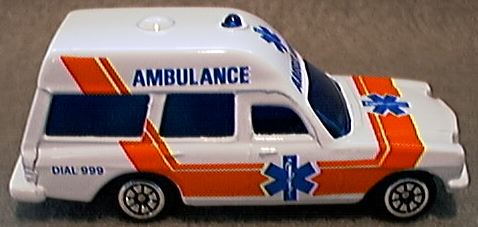 1985 Mercedes-Benz
by Corgi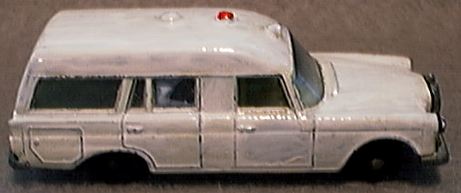 1965 Mercedes-Benz
by Matchbox