Super 7 by Matchbox


Europa by Tomica


Europa by Matchbox


Europa (by Impy Lone Star


1974 Elite by Tomica


1974 Elite by Playart



James Bond Esprit by Corgi
Looking for Little Loti
by Doug Breithaupt

Like many smaller automobile manufacturers, Lotus is is not well represented in 1:64 scale. Only four of the many Lotus models have been done over the years. Fortunatly, some of these small-scale models come from the better diecast producers and provide the Lotus collector with very nice examples of this famous British marque.

The wonderful Lotus Super 7 starts our review. It was done by Matchbox and comes in several colors, orange being the most common. The real car is still in production under the Caterham name after 42 years. The Lotus Europa of the late 1960's was also done by Matchbox, as well as Impy Lone Star and Tomica. The blue Matchbox was a childhood favorite and the Tomica is charming in green with a yellow Lotus stripe. A lesser-known Lotus model, the second-generation Elite was done by Tomica and Playart
The evergreen Lotus Esprit, now in it's 27th year f production is the most common model in 1:64. Seven manufacturers have done stock models including; Hot Wheels, Playart, Tomica, Speed Wheels, Johnny Lightning, Summer and Corgi. Well, the Corgi is not really stock unless your name is Bond, James Bond. Corgi did the Esprit submarine that featured in one of the Bond movies. Johnny Lightning did the pre-submersed model in white and offered a red Turbo Esprit as well. The black Esprit from Tomica is in Lotus racing colors and says 'world champion' on the door, celebrating the F1 championship for Lotus in the late '70's. The red Esprit of generic origins is interesting for it's unique wheels. Can anyone provide better identification? The most modern Esprit is also the crudest. This silver Summer model offers an Esprit of the 1990's. To bad no other modern Esprit models have been done in this scale.

Two Esprit models are still in production. The new Johnny Lightning Bond model is a must find for collectors. The second is the Speed Wheels model, available in black for $.59 or 2/$1.00. The Summer model may also be available as part of a 25 car set.

Where are the Lotus Elan (1962-73), Elite (1958-63), Eclat or new Elan and Elise models? Lotus F1 cars have been done in this scale (see the Lotus F1 article done earlier). With the Esprit now available in new style and flaunting a V8, someone should add this model to their 1:64 line. Maisto has a nice 1:36 scale version currently available, along with the new Elan in the same scale.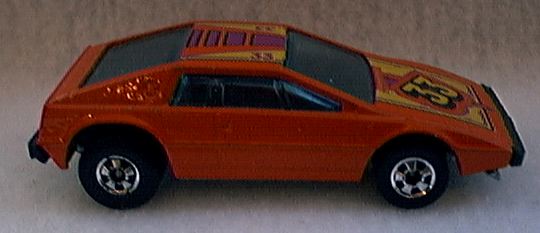 Esprit S1 by Hot Wheels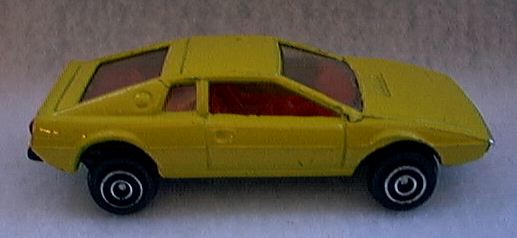 Esprit S1 by Playart


Esprit S1 by Tomica


Esprit S1 by generic(Asian)


Esprit S1 by Speed Wheels


Esprit S3 by Johnny Lightning


Esprit S4 by Summer