Miniature Minis
1:64 scale models of one of the most significant automobiles of all time
by Brian Willoughby
Every automotive enthusiast knows the incredible saga of the Mini: designed almost single-handedly by the British Motor Corporation's brilliant Alec Issigonis, the Mini first appeared as a Morris model under the name of "Mini Minor." Eventually, badge engineered derivatives arrived from Austin (the Seven), Wolseley (the Hornet) and Riley (the Elf) while estates, vans and even pickups were also added to the long list of Mini body styles. Yet the Mini's true design essence lay in its overtly pragmatic packaging and unexpected sporting personality: in a body less than 10 feet long, it featured front-wheel-drive, a transversely mounted engine, room for four adults and superb handling. While many others attempted to copy BMC's original, it has never successfully been duplicated by anyone despite the fact that nearly every front-wheel-drive car today owes its very existence to the Mini.
Of course, the Mini captured the attention of a certain John Cooper who managed to tweak the little car with a few additions to improve road-going that transformed it into a three-time winner of the Monte Carlo Rally. And who can forget the three Mini Coopers that pulled off the crime of the century in the Michael Caine film "The Italian Job"? Yes, it's been a very memorable 40 years. Let's turn our attention to all the miniature Minis that can help us to remember these remarkable cars.
As curious as it may seem, Mettoy and Lesney were extremely slow to offer miniature Minis and when they finally did, the models that appeared were either modified racers or outrageous creations that attempted (and failed) to capture some of the fire from Mattel's Hot Wheels. Mettoy's Corgi Juniors introduced a model that had to have one of the longest model names ever cast onto the baseplate of a diecast car: the "B.V.R.T. Vita-Mini 1300 Mini Cooper S" was a customized, chopped-roof Mini with an exposed engine, chromed interior and oversized wheels that appeared only in metallic purple. Needless to say, the Hot Wheels influence was painfully obvious; nevertheless, this somewhat rare toy car can be one of the more challenging models to locate in the Corgi Juniors range.
Moving from Swansea over Lesney's hometown of London, Matchbox brought the world a model simply named "Racing Mini". Refreshingly free of the typical overkill of the period, the Racing Mini looked almost exactly like what one would find circling race tracks of both then and now. While the metallic orange variant was perhaps a bit much (as well as a somewhat inaccurate color), the solid red version was quite sharp. Perhaps the only improvement that could have been made was for Lesney to have silvered the headlamps rather than leaving them body color. The "Mini Ha Ha", however, was a completely different story. Another less than adept effort to provide a viable rival to Mattel's products, the Mini Ha Ha simply came across as ridiculous rather than sleek, unique or stylish. Equipped with appropriately sized wheels on the front axle, the rear wore hugely overgrown rims and tires not to mention such silly decorations as a radial engine protruding from the bonnet and a World War I flying ace driving the machine. While possessing a certain charm and cuteness, the Mini Ha Ha proved all to which manufacturers would succeed in the new "speed wheels" arena and which would not. (Is it any wonder that Mattel bought out both Corgi and Matchbox?)
Despite the short span of availability in the United States, Minis have long been one of the best-selling British automobiles elsewhere in the world. One country that consumes a respectable portion of Longbridge's annual production is Germany, home to diecaster Siku. One of the most respected brands of European models still actually produced in their native land, Siku has offered only a handful of non-German car models over the years. Happily, one of the non-German cars is probably the best small-scale Mini Cooper ever made. The casting is near perfection, the colors correct and even the wheels feature centers that are exacting miniatures of the famous light-alloy Minilite wheels so many Coopers rode upon. If you can only have one Mini in your collection, make certain this is the one.
Considering its size and charming character, it should come as no surprise that the Mini is cherished in Japan and has consistently been one of the best selling imported cars in the Land of the Rising Sun. In response to the Japanese infatuation with this British icon, Tomica has produced a delightful model of the Mini for the better part of two decades. Like all Tomica castings, the Mini is a high quality and accurately finished miniature that has been produced in so many variants that a book could be written on this model alone. Invariably offered with the standard old Tomica wheels, this model probably looks the best with the wider, racing type wheel that has only occasionally been fitted to it. And in one of the best paint schemes ever portrayed on a toy Mini, current castings feature a Union Jack proudly tampoed unto the roof. Rule Britannia, indeed!
One of the more obscure Mini castings comes from the New Zealand-based Fun Ho! Like most models from this little-known manufacturer, their Mini is a smallish yet heavy model that was painted in a variety of real-life colors. Rare outside of their homeland, Fun Ho! miniatures are always welcome additions to any collection of early 1960s diecasts and to add to the challenge these models were offered in both Austin and Morris versions.
Perhaps owing to their "colonial" origin, Hong Kong-based Playart frequently selected British subjects to portray in miniature. One such example was it's model of the Austin-badged Mini Cooper S. Unfortunately, this is one Playart not up to the usual standards of this brand: while other Playarts received more than one paint application, the Cooper, which should have had either a white or black roof, was sprayed a single monochrome color. To further discredit the model's accuracy, colors selected typically failed to match any factory paint-scheme. However, the body shape was correct, the wheels the right scale size for the model and the casting also featured all the seams and exposed door hinges associated with early Minis. Additionally, the model had a very unique gimmick that was a perfect (and correct) touch for a Cooper: the chrome-plated grille insert continued along the base of the model to form the wheel-well trim seen on real Coopers. All in all, it was a very nice, as well as unexpected, detail.
Speaking of unexpected details, a Real Toy casting has to be one of the most bizarrely decorated miniature Minis ever. Like most Real Toy models, this diecast is one of those surprisingly good miniatures that collectors find occasionally for a low price. As with the Playart Mini, Real Toy's model is accurate in both its body shape and wheel size (although a better-looking wheel would be welcomed.) Yet the real news about the model is the manner in which it is painted in a multitude of colors and printed with enigmatic references to Wall Street and greed. Perhaps, as the model is made in China, it represents one final gasp of the communist-state's anti-Western propaganda machine.
Always under-rated and frequently maligned, Zylmex quietly produced some very respectable models for a number of years. One such example is their miniature of a non-Cooperized Morris Mini. A tasteful and discreet model, the Zylmex casting exhibits this brand at its best with its sharp body shape that is properly proportioned to the standard wheels long employed by Zee Toys. On the down side, paint colors, while always reserved, were not always a good match to what was offered on the real cars.
Better known for toy products other than diecast model cars, Russ manufactures a charming friction-motored Mini that races across the floor in either in forward or reverse. More toy than scale model, the Russ Mini features several nice touches including a fairly accurate body shape, a white roof and silvered grille and headlamps.
Finally, one of the most difficult to obtain Minis for American collectors is the great model distributed by the Dutch-based Edocar. Fully decked out with rally lights on the front bumper, chromed wheels, real rubber tires and an accurately painted body featuring the famous white roof. Well-proportioned with correctly sized wheels and tires, it seems only appropriate that this wonderful model is not available in the United States.
Although infinitely more significant from an engineering and historical standpoint, the Mini, in real life, has never received the attention of the best selling Volkswagen Beetle. This is a true shame considering how heavily indebted almost every modern front-wheel-drive automobile is to this little British box. The situation is little different in the world of diecast. Nonetheless, there are enough decent Mini models floating around to allow a collector to assemble a respectable presentation documenting miniature Minis.

Corgi Juniors 21 B.V.R.T. Vita-Mini 1300 Mini Cooper S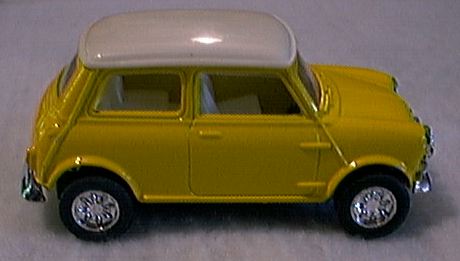 Edocar 5 Mini


Matchbox 14 Mini Ha Ha


Matchbox 29 Racing Mini


Playart 7157 Austin Mini Cooper S Mk. II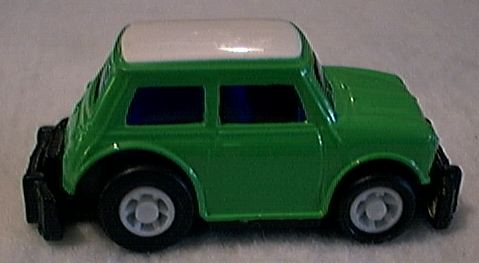 Russ Mini Cooper


Tomica F8 (later #88) BLMC Mini Cooper S Mk. III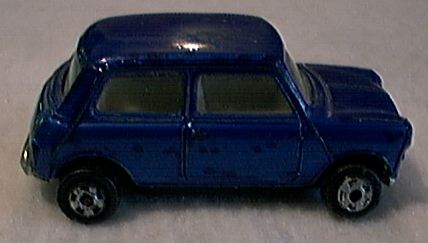 Zylmex Morris Mini Minor


Siku Austin Mini


Real Toys Mini

Not Pictured
Fun Ho! 11 Morris Mini Minor
Fun Ho! 17 Austin Mini