Mighty Maverick redline in hot pink - What is it really worth?

---


True Market Values

The value of any toy car is difficult to define in monetary terms. Recently, I have been selling cars from my Hot Wheels collection on Amazon.com's auction Website (see 'News Flash' below for an explaination for this sale). At first I tried to use values from recent price guides. I quickly realised that these are not true market values. My solution was to simply select a number that I thought realistic and use that as a starter value. This system has worked much better.

To the right are some of the cars I have sold and the winning bids. None of these are at price-guide levels and that's fine with me. I know that collectors are paying what they think these cars are worth.
I have sold about 50 cars so far and the response from the buyers has been very positive. I have over 900 Hot Wheels and I plan to sell most of the duplicate models, keeping my favorite color of each model.

I bought most of these Hot Wheels long before they became objects of obsession, and I have no reason to complain about the profits made over the past 10+ years they have graced my collection. For the seven cars pictured here I may have paid $15 total. I take a digital picture of each car I sell so I still have an image to used whenever required. If I become depressed at the loss of any of these cars, I can always take the Ferrari for a drive. In fact, I highly recommend Ferrari driving as a cure for any form of depression.

Does it really matter what our collections are worth? For insurance purposes perhaps it does but otherwise it is silly to worry about the value of our toy cars. In November-December issue of Toy Cars and Vehicles it was reported that a collector paid $72,000 for a prototype redline Hot Wheel VW Bus in pink with rear surf-boards. Numbers like these are absurd for any toy car in my opinion. There are some wonderful cars worth $72,000 but all of them belong in the garage not the toy room.

Are these crazy prices a sign that the Hot Wheels market is poised for a fall? History would support that theory but there are a lot of baby-boomers with discretionary income these days. Perhaps the most pathetic danger signs are not in the values of the old Hot Wheels but in the values assigned to some of the recent releases. Treasure Hunt and other collector 'specials' that simply feature a different paint scheme and are hawked at $20-30 bucks each are way over the top. Mattel better enjoy the ride while they can. if mattel stock values are any guide, the ride is hitting a few serious bumps at present.

One of my Hot Wheels is the redline Mighty Maverick in pink, pictured above. It is in excellent/loose condition and I suspect it would bring a high price. Since I do not have a duplicate and it is the only Maverick in my collection, I am in no hurry to sell. I have no idea what it is really worth but for now, it is worth more to me simply because I like it. In the end, that is the truest measure of value

---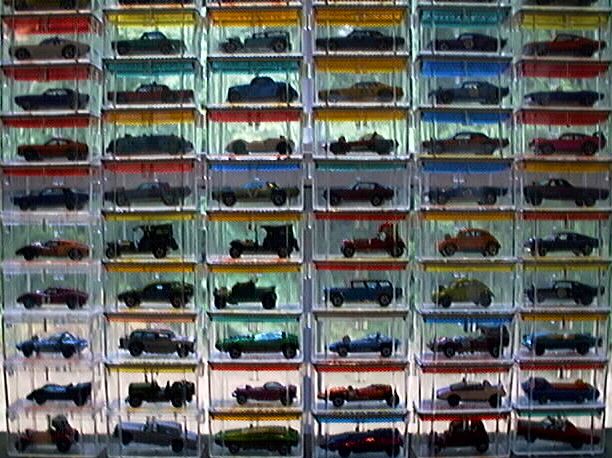 N E W S - F L A S H . . .
Yes, much of my Hot Wheels collection is up for sale. I just bought a Ferrari 308GT/4 and the Hot Wheels are going to help pay for it, see the new toy at: </308gt/4.htm>. I am selling cars from the collection by auction on Amazon.com. You can view my auction items at: <http://auctions.amazon.com/exec/varzea/ts/user-glance/AIL39J6S4YLV9>. You can also visit my Hot Wheels sale page and make offers to buy or trade for the cars listed. If you are a Hot Wheels collector, don't miss this opportunity, when they're gone.....
Auctioned Hot Wheels
---

Custom VW redline, excellent/loose $32


Shelby Cobra, near-mint/loose $13.50


Dodge D50, mint-in-opened-package $15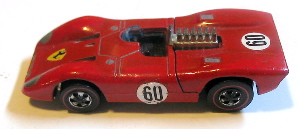 Ferrari 312P redline, excellent/loose $11.50 (a steal)


Porsche 911 redline, mint/loose $26


Paddy Wagon redline, near-mint/loose $21


Sugar Caddy redline, very good/loose $26