N E W S - F L A S H . . .
Yes, much of my Hot Wheels collection is up for sale. I just bought a Ferrari 308GT/4 and the Hot Wheels are going to help pay for it, see the new toy at: </308gt/4.htm>. I am selling cars from the collection by auction on Amazon.com. You can view my auction items at: <http://auctions.amazon.com/exec/varzea/ts/user-glance/AIL39J6S4YLV9>. You can also visit my Hot Wheels sale page and make offers to buy or trade for the cars listed. If you are a Hot Wheels collector, don't miss this opportunity, when they're gone.....
---
Fall is Time for Treasures Found

For the past few years, I've noticed that the majority of the new releases for the year finally start to show up in the month of September. Collectors become aware of the new models in January and February but little appears on the shelves until Fall. This 9-month birthing period is a time of anticipation and frustration as we hear about others who have found the treasures we want and try to avoid the temptation to buy early releases from scalpers at only 500% mark-up. No temptation here, thank you very much.

Of course, this welcome glut of new models in September can be a real stretch of budget. Every trip to the variety of diecast emporiums hazzards financial ruin. My wife keeps hiding the credit cards and removing any loose cash from my wallet. Ah, but true collectors are a crafty lot and it's amazing how easy it is to get a second mortgage these days.

My ill-gotten gains are represented by the variety of cars shown to the right and below. The big surprise is that Hot Wheels has finally started producing some cars I want. Of the new 1999 releases, three favorites are the Ford GT40, Jeepster Concept and a wonderful land-speed racer called Turbolence. With regard to this last car, it says "Dayla Special" on either side of the exposed V12. Is this a reference to a real car? The GT40 is a great casting in the right colors. The Jeepster now brings the total of Chrysler concept cars produced in the '90's by Hot Wheel to five. Speaking of concepts, A recent trip to McDonalds resulted in a Prowler-esque Happy Meal car with an extended tail and twin surf-boards. In that Hot Wheels never did the Prowler, one wonders if this is the result of un-used tooling that does not require licensing fees? The last Hot Wheel model is a 1969 Buick Riviera. One of the new collector cars, the price of $7.49 pushed the limits of my personal limits for a 1:64 scale car. At the same time, I've always thought the second-generation Riviera one of the best designs of the 1960's and even in low-rider form, it is a very nice model. Is it worth $7.49? Is it twice as good as comparible Racing Champion or Johnny Lightning models? No and no but I bought it anyway. I hope they do a stock version some day.

Johnny Lightning continues to be the tail wagging the diecast dog with their excellent offerings. At $2.99, the new Camaro series is a winner. Early birds got the more desirable cars from the series but I bought the two I found. A new Racing Champion color also jumped into my basket. Who can resist the '55 Chevy in red and white? Too bad so many Racing Champion cars are ruined by idiotic wrestling and rock/country music tampos. I notice these sad cars don't sell very fast either.

Three favorite finds came from the budget brands. Maisto's 1:64 scale cars are often superior to their less-than-a-dollar competitors and the Jaguar XK8 in British green is an easy decision, especially at 3 for $2. Red Box must have finally realised that the old Zee Toy diecasts represent some great models. Two re-released cars are the Fiat X1/9 and the Porsche 936, neither of which I had in my collection. For Honda fans, the late 1980's CRX has also be offered again in green.

One other Fall tradition is my trip to the discount warehouse to buy Maisto's 1:18 scale cars for the amazing price of $9.95 each. I found seven new models. Three are Jaguars, the XK8R, the XK180 and the new 'S' type. A Mercedes-Benz S-Class and 1955 300S were joined by the 1999 Mustang and a yellow Hummer. I wait until this time of year to buy all my Maisto models, who can resist?

---

1976 Fiat X1/9 #D63 by Red Box $.67


Porsche 936 Spyder #D62 by Red Box $.67


1998 Jaguar XK8 by Maisto $.67
Recent Additions
---

1999 Jeepster, #922 by Hot Wheels $.82


1967 Ford GT40, #921 by Hot Wheels $.82


Turbolence, #923 by Hot Wheels $.82


Custom Prowler (McD) by Hot Wheels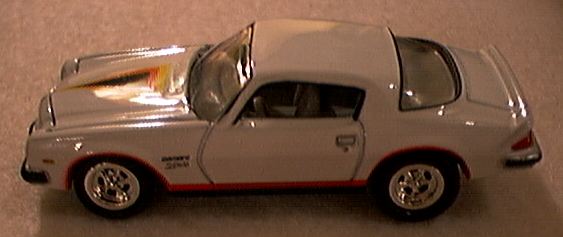 1977 Camaro Z-28, #539 by Johnny Lightning $2.99


1982 Z-28 Camaro #484 by Johnny Lightning $2.99


1955 Chevrolet Belair Convertile #2
by Racing Champions $2.99



1969 Buick Riviera by Hot Wheels $7.49