Serving the home market is again becoming the priority for many toy car companies. In the early years of small-scale toy cars, products tended to reflect the vehicles seen in the streets of the country in which the manufacturer was located. Matchbox offered British cars while Siku provided German models and Majorette focused on French vehicles.

As toy car markets became global in the 1970's, this changed. Now, Matchbox, Siku, Majorette and others added cars from North America, Asia and even Australia. Competition for North American customers was particularly fierce with Mattel's Hot Wheels changing all the rules. Of course Hot Wheels also offered European and Asian models in their lines.

As toy cars moved into the 1980's and 1990's, many toy car companies tried to offer lines that included all the major vehicle types from around the world. This resulted in many examples of the most popular cars and trucks from different manufacturers and very few of the models that might be limited to specific geographic areas. This effort to represent cars from across the globe tended to limit the variety of models offered as each manufacturer tried to make sure that the models they offered would be popular to the widest possible market. While it was possible to find dozens of examples of sexy sports cars or blue-chip classics (think '57 Chevy or Jaguar 'E' type), we seldom saw the 'everyday' cars that were most common on our own streets.

As competition increased, some companies like Tomica and Majorette withdrew from the North American market and dramatically reduced the American castings in their lines. After Mattel bought Matchbox to add to their Hot Wheels line, it seemed impossible to try to compete head-to-head with this toy car superpower. The solution for some companies was to re-focus on their home markets.

In the last several years, this new trend has seen dramatic growth. A re-birth of smaller, locally-focused toy car companies has emerged. In Europe, companies like Norev (France) and Grell (Germany) have once again focused on the current or classic models from their own backyard. In Asia, Konami and Kyosho have began to challenge Tomica as the primary source for the vehicles of Japan. Biante has brought the cars of Australia to collectors and companies like Auldey of China are offering toy cars seen on the streets of that country (see story). In North America, companies like Johnny Lightning and Racing Champions led the way in offering American cars, perhaps providing the initial examples of how this trend could be a success. More recent companies like Jada and Muscle Machines have built their lines on the cars from Ford, GM and Chrysler.

Once again, Siku seems to be offering mostly German vehicles while Majorette has looked to French roads for their model offerings. Matchbox has even tried to return to it's English roots with cars from TVR, Jaguar and Mini. Based in California and owned by Mattel, this is primarily a marketing concept for Matchbox but welcome nevertheless. Not everyone has followed this trend and Hot Wheels is still committed to the global strategy. Companies like Maisto, Real Toy, Welly and AUTOart still produce a wide-selection of cars as well. Welly has adopted an interesting strategy of producing cars from many geographic areas and then segmenting their line for these markets. One can find Welly's Russian cars in Russia, European cars in Europe and American cars in North America but it is very challenging to find the complete Welly line!

For collectors, this trend to offer more home-grown models has created an amazing variety of diecast cars to pursue. Thanks to the Internet, it is possible to connect with different corners of the world and work out trades for toy cars that can't be found at home. I am happy to send Johnny Lightning or Muscle Machine models to Europe or Asia in return for the Norev, Kyosho, Biante or Grell models seldom seen in the United States. This global collectors network will only continue to grow as more of the world joins the online revolution. For many toy car collectors, the trip to the mailbox can be far more rewarding than visiting local stores.
---

1963 Studebaker Avanti by Johnny Lightning - I'm happy to send models like this classic American to the far reaches of the globe in exchange for castings I can't find here.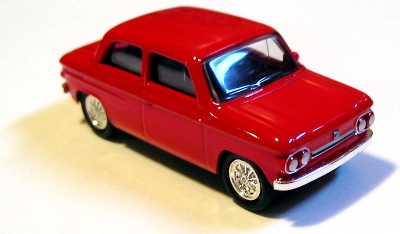 DKW-Auto Union 1200TT by Grell - you won't find one of these at Wal-Mart.

Auldey's Chinese 'Jeep' is unlikely to ever be offered by Hot Wheels.