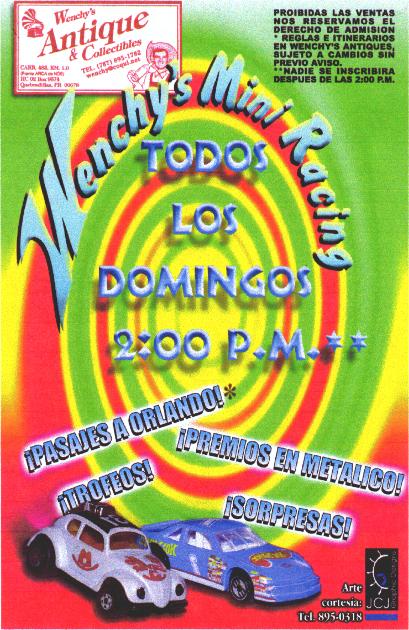 N E W S - F L A S H . . .
Yes, my Hot Wheels collection is up for sale. I am buying a Ferrari 308GT/4 and the Hot Wheels are going to help pay for it </308gt/4.htm>. I am selling the collection by auction on Amazon.com. You can view my auction items at: <http://auctions.amazon.com/exec/varzea/ts
/user-glance/AIL39J6S4YLV9>. You can also visit my Hot Wheels sale page and make offers to buy or trade for the cars listed. If you are a Hot Wheels collector, don't miss this opportunity, when they're gone...
New Features, New Friends & Of Course, New Toy Cars

It has been hard to wait until September for this issue to be presented. It has so many great stories and features. To begin, Tales of Toy Cars is very pleased to offer an exclusive interview with Tom Lowe, founder and President of Playing Mantis/Johnny Lightning. Johnny Lightning has been a key factor in the new wave of wonderful diecast cars. This interview will help you understand why, and provide some idea where our hobby will be in the future.

Brian Willoughby and David Cook are back with pieces on the first Mercedes SL cars and the Ford vs. Ferrari battle of the 1960's, in miniature of course. A new contributor, Remco Natrop of Holland is beginning a series of articles on the story of Siku. Remco hosts his own Website dedicated to these great German diecast vehicles. You can visit Remco's site at; <http://members.xoom.com/siku>.

A new friend, Larry Malugin from Puerto Rico, has sent many visitors to TofTC and sent me the poster (left). Every weekend, the faithful collect at Wenchy's Antiques (wenchy@coqui.net) for diecast racing. Yes, they take the cars out of the package and actually race them. Remember how much fun you used to have doing the same thing. Sure, most of us are older and have less hair now but that does not mean we've lost our ability to play. It's great to see this type of activity and it beats wandering the aisles at Toys-R-Us.

Speaking of the toy aisles, I've added a few more cars to the collection and wanted to share some of my favorite finds. Majorette is the only company to offer Fiat's new Coupe. This yellow model is a charmer and may end up being the only small-scale example of this interesting car.

Summer or SS does not produce any high-end diecast cars. Their models are crude, cheap and yet have a certain style. Most important, they often provide unique castings of cars not often seen. In a previous issue I showed their Tucker, Checker Cab and pre-war Alfa Romeo. Here are two more I just found, an early 1950's Chevy Sedan and a BMW 325i Cabriolet. In contrast, Johnny Lightning's new Viper GTS/R is the first casting of a true SCCA racing Viper, complete with full tampos. Maisto has done a fine generic GTS/R in small-scale but this casting is simply stunning. It's so nice to see something other than NASCAR in examples of real race cars.

It has been a long time since Yat Ming offered any new small-scale cars. Three just turned up. The Ferrari 335 is a very nice casting and just a few un-necessary tampos. At least it's red. The Mercedes SLK sports a hard-top and excessively large rear-wheel arches, but no tampos to detract from a decent casting. The BMW Z3 is the best with new-style wheels, top-up in flat black and a tampo-free, realistic paint color. Until now, only Hot Wheels had done the Ferrari 355 and it is not one of their best. The SLK and Z3 have been done by more companies but these are welcome additions. Let's hope that Yat Ming has more to come.
Recent Additions



1998 Fiat Coupe by Majorette


1952 Chevrolet Sedan by Summer


BMW 325i Cabriolet by Summer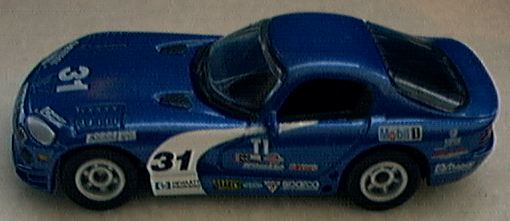 1998 Dodge Viper GTS/R
by Johnny Lightning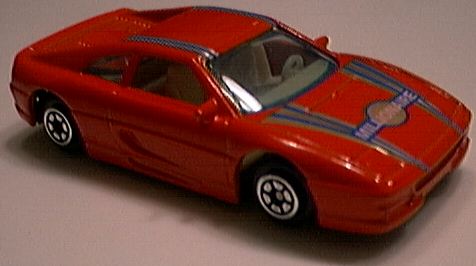 Ferrari 355 by Yat Ming


Mercedes-Benz SLK by Yat Ming


BMW Z3 Roadster by Yat Ming