Mercedes Benz ML430, Golden Wheel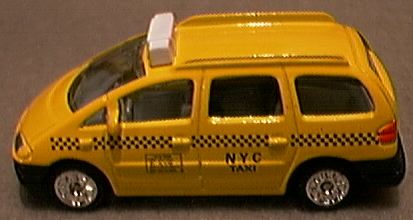 Ford Taxi Van #124-4, Golden Wheel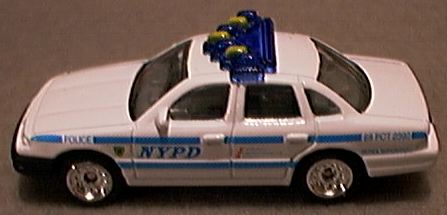 Ford Crown Victoria #124-8, Golden Wheel

Ferrari F50 #124-2, Golden Wheel


VW Beetle #124-6, Golden Wheel


Dodge Viper GTS #124-1, Golden Wheel

Mercedes-Benz S-Class #124-7, Golden Wheel


Jeep Grand Cherokee #65, Matchbox $1


Jaguar F1 racer by Hot Wheels (McDonalds)


Jordan F1 racer by Hot Wheels (McDonalds)



Williams-BMW F1 racer by Hot Wheels (McDonalds)
---
Recent Additions

Another busy month was recorded in September! The new cars by Golden Wheel are a nice addition. For a full review, check out the editorial page. I also ate far too many Happy Meals in order to get all three new F1 cars (see story). A nice surprise was the new Lotus Elise also offered in the Happy meal give-always. Note the interesting wheel design.

Three new matchbox models were found. The 2000 Jeep Grand Cherokee #65, Ford Focus #84 and the BMW 3-Series Coupe (see story). Johnny Lightning provided a new '70 Dodge Challenger T/A, # PM228. Yes, this is JL's second '70 Challenger but the new one is much improved. Ertl has done a new 'General Lee' Charger from The Racing Champions casting.

Racing Champions provided two more Street Wheels, the AMX and a very nice Dodge Viper GTS/R in the colors that won Daytona 24 Hours and a class win at Le Mans this year. Even the number is correct. One problem, the French flag is reversed, it should be bleu, blanc, rouge. A second Viper GTS/R was part of a five-pack of racing cars. The '96 Camaro, Ford Bronco and Jeep CJ5 joined the Viper in race/rally colors. A '77 AMC Pacer also was added, a most curious choice for a racing theme. I cannot believe the Pacer ever saw serious competition.

1999 Lotus Elise, Hot Wheels (McDonalds)


1970 Dodge Challenger T/A.#PM228, Johnny Lightning $2.99

Ford Focus #84, Matchbox $1

1969 Dodge Charger "General Lee" #1160, Ertl


1999 Jeep CJ, Racing Champions


1968 AMC AMX Javelin, Racing Champions


Dodge Viper GTS-R, Racing Champions


Dodge Viper GTS-R LM, Racing Champions


1977 AMC Pacer, Racing Champions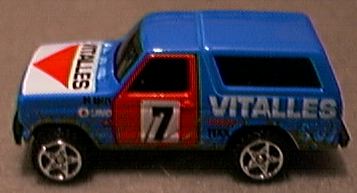 1980 Ford Bronco, Racing Champions


1996 Chevrolet Camaro, Racing Champions