MAISTO

BMW Z8 - $.50


Chrysler Panel Cruiser - $.50


Chrysler GT Cruiser - $.50


2000 Chevrolet SSR - $.50


2000 Chevrolet Traverse - $.50


2000 Chevrolet Monte Carlo SS - $.50


VW Golf IV Cabrio - $.50


VW Jetta - $.50
---
KENNER

Batmobile - Kenner - $1.50
---
MOTOR MAX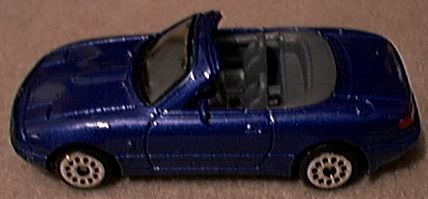 Mazda MX-5 Miata - trade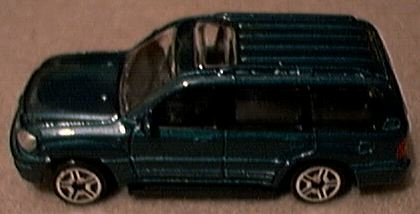 Toyota Land Cruiser - trade


BMW Z8 - trade
CARS OF THE MONTH

Cunningham C4R - Hot Wheels $1.19
---


Recent Additions
October's car of the month is one the few today will recognize. I expect many Hot Wheels collectors had no idea the a Cunningham C4R even existed. Briggs Cunningham was a true automotive enthusiast. He set his sights on winning LeMans. After attempting to win in 1950 in a stock Cadillac, he decided to build his own cars. The Cunningham C4R did have several top-ten finishes but never won LeMans.

The Hot Wheels model is offered in American racing white with twin blue stripes, just the way Briggs Cunningham raced his cars. The shade of blue on the stripes is especially nice. For a $1 toy car, this is a nice casting. The mood of the real car is captured in this miniature. Along with the Ford Thunderbolt, this makes two more vintage racers from Mattel. I don't usually give Hot Wheels a lot of credit but it's due here.

Maisto's new models began to show up at local stores and I found eight to add to the collection. It is likely the VW Jetta will not be done by anyone else, making it especially welcome. The Chevrolet SSR is a delightful model, even for a truck,and it's exciting to hear it will actually be produced. The GT Cruiser is changed from the earlier PT Cruiser casting and the Panel Cruiser is quite good. The Chevrolet Traverse shows what the next station wagons will look like. The VW Golf IV Cabriolet and BMW Z8 are provided with the rare interiors reserved now for open cars alone. Both are decent castings of fun cars.

Matchbox also provided new models. One has to wonder why Matchbox deemed it necessary to do yet another VW Baja Beetle (see 'Bad Bugs' article). This one sports a light bar and truly oversized wheels. The opening front bonnet does not really help the looks any. This is the fifth competition Beetle from Matchbox over the years. Why did they bother with a new casting? The 2000 Corvette Convertible is the 10th Corvette model done by Matchbox and has a distinct Hot Wheels look. I found a Chevrolet Impala Police car and Nissan's Xterra SUV as well.

Hot Wheels provided the Ford Thunderbolt stocker and it is another great vintage racer. I also bought the Harley Davidson 5-pack of trucks. The dual themes of Ford trucks and Harley were compounded by the inclusion of the 1979 F150 model done originally as Sam Walton's truck for Wal Mart. The plastic camper top is cheesy, I especially like the '56 Panel in silver. All it needs is a trailer hitch and a Harley to tow.

Kenner provided a cartoonish Batmobile from the sale bin. Motor Max models are increased by three, the Miata, Land Cruiser and Z8. The Miata is given a rather thick windshield pillar but otherwise these three are good quality for their price. Johnny Lightning's 1970 Dodge Challenger funny car represents Gene Snows' Rambunctious and is a beautiful miniature. My cereal box provided a 2000 Taurus in NASCAR colors for the Mark Martin team car. It seems that Pfizer is a substitute for 'Viagra' on the real car.


---

Honorable Mention - 1963 Chevrolet Impala by Ertl - $2.99

One of the nicest finds is this 1963 Chevrolet Impala by Ertl. Offered in a mirrored display case, this is another gem from the American Muscle series. The hood and trunk open and the detailed 409 cu. in. motor is perfect. The skirted rear wheels give this model a stylish and sleek look. The faux convertible hard top lends to the overall effect. This is a great model of one of Chevy's best from the 1960's. My first car was a 1963 Chevrolet Bel Air Wagon with a 327 cu. in. motor. For a 16 year old, it was a great car. It had plenty of power and room for many friends. I drove it until the transmission refused any gear but reverse. I backed it home and sold the motor to a friend with a '56 Chevy.


---

Mercedes-Benz E 430 Wagon - trade

This is one of my favorite recent Matchbox models. received in trade, it offers an excellent casting and a unique K9 police unit from Germany. I hope a stock version of the E430 is also offered. Too bad this model is not part of the U.S. Matchbox line. Instead we get snow mobiles and street sweepers. My only suggestion would have been to put a police dog in the car too!
HOT WHEELS


Ford Thunderbolt - $1.19

---

1940 Ford PU - $.75


1956 Ford Panel - $.75


1979 Ford F150 PU - $.75


1980 Ford Bronco - $.75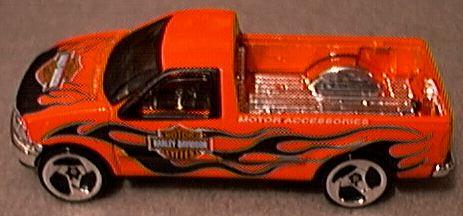 1997 Ford F150 PU - $.75

---
MATCHBOX


VW Beetle 4x4 #31 - $.94


2000 Corvette Convertible #57 - $.94


Chevrolet Impala Police - $.94


Nissan Xterra #32 - $.94
---
JOHNNY LIGHTNING

1970 Dodge Challenger funny car - $1.99
---
TEAM CALIBER INC.

2001 Ford Taurus stocker - cereal car