FUNLINE

2002 Acura RSX Type S #T02-03 - $2.99


2000 Nissan Skyline GTR #T02-05 - $2.99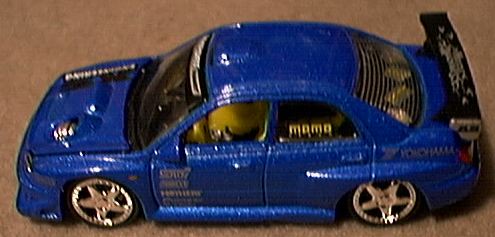 2001 Subaru WRX #T02-04 - $2.99


2000 Honda Civic HB #T02-01 - $2.99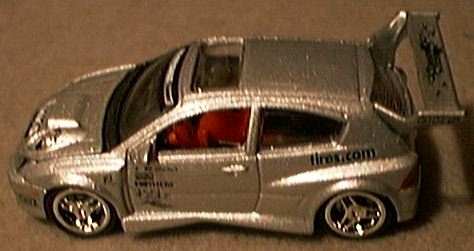 2001 Ford FR200 #T02-02 - $2.99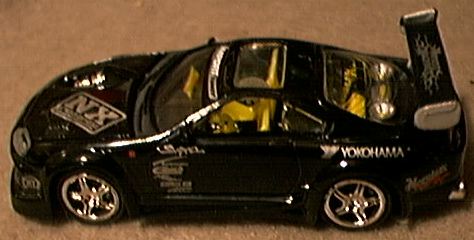 1997 Toyota Supra #T02-06 - $2.99

---
XCONCEPTS

2000 Acura Integra - $3.99


1999 Honda Civic - $3.99
---
CAR CHAINS

1953 Corvette - trade


2000 Corvette - trade
CAR OF THE MONTH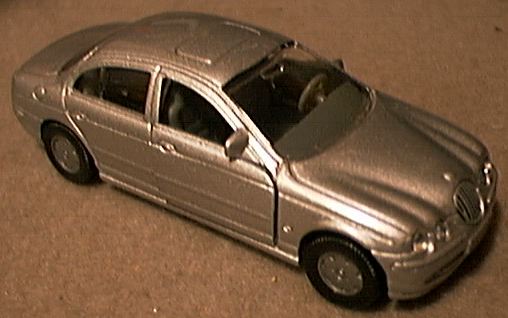 Jaguar 'S' type - Siku, $2.25
---

Recent Additions

The car of the month has been around for about a year but I had not found it until now. Siku models are available through several smaller toy stores but they are slow to order new stock. This casting is the best of the 'S' type models so far. I especially like the separate plastic headlights. Siku, like Tomica, just keep doing great little cars their own way, with little regard to the competition. The continued popularity of both Siku and Tomica could be a lesson to manufacturers like Matchbox and Majorette who always seem to be trying something different.

Last month I profiled the new Import Tuners from Funline (click here) and I have now found all six of their first release models. While the package says these are 1:64 scale, 1:58 is likely closer to the mark. The detail is excellent and the interiors are especially well-done.

The Modifiers by XConcepts are also tuned models but are much closer to stock models. So far I have only found the Acura RSX and Honda Civic models.

When I first bought the new Thunderbirds from Johnny Lightning I selected the '68 T-Bird but left the '67 on the pegs. I went back and picked up the first release '67 as I like the color and red-line tires on this example. Also from JL are a boxed-set of VW Beetles. The mud-splattered racer is cute but i keep wanting to wipe it down. I really like the vintage German 'Polizei' model. The gold and turquoise Bug with surf boards are fun but I wonder how real surf boards were attached to a Beetle roof? Surely they required a rack of some sort.

Hot Wheels collector models have been appearing at reduced prices and I was happy to pick up their fine '57 Ford Convertible for under $3. Along with the '57 Ford Hardtop from Imperial, this is one of very few models of one of Ford's best selling years of the decade. In fact, Fords out-sold Chevys in 1957.

The '57 Cadillac Eldorado Brougham also was found. The wheels and rear-deck tampo detract from an otherwise decent casting. Wheels and tires are also the major detraction from the re-cast Nitty Gritty Kitty from HW's Hot Rodding series. Otherwise, I like the re-cast of this model. The Jaguar XKE is another collector model re-packaged and re-priced. What's not to like? Lastly, the Mini Cooper is fun but the poor detail makes it the runt of the Mini litter, compared to other manufacturers.

Two more Car Chain models arrived in trade. The '53 and '00 Corvette models are a bit to short and the detail work is pretty sad but these have a quirky appeal.

Matchbox has done their Chrysler Panel Cruiser as a woody. I don't care for these wheels much. The solid back window and lack of tampos for grill or lights are also a disappointment. Still, at least it is not another boat, plane or emergency vehicle!

On a broader note, it seems toy car prices are under pressure due to the slow economy. I regularly see Matchbox and Hot Wheels for $.59 to $.89 each with only Toys R Us holding them at $.99. Hot Wheels has also lowered the prices of their collector models to a reasonable number. This may be an effort by retailers to move stock before new holiday shipments arrive. I have found new Ertl models for $1.99. Johnny Lightning seems to be holding their prices in the $2.99 range.

---

Amphibian Jeep - Playart
JOHNNY LIGHTNING

1967 Ford Thunderbird - $2.99


'66 VW Beetle - $2.50


'66 VW Beetle - $2.50


'66 VW Beetle - $2.50


'66 VW Beetle - $2.50

---
HOT WHEELS



1957 Ford Convertible (custom) - $2.99


1957 Cadillac Eldorado Brougham - $79


Nitty Gritty Kitty ('68 Cougar) - $2.99


Jaguar XKE - $2.99


Mini Cooper - $.79
---
MATCHBOX

Chrysler Panel Cruiser - $.82