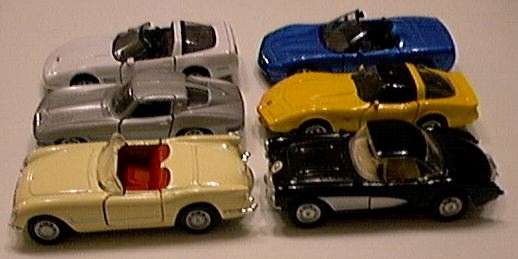 1:36 scale Corvettes by Maisto cover all six generations

---
An Interview with Charles Hepperle,
Product Coordinator, Maisto International, Inc.
Tales of Toy Cars (TofTC) is very pleased to present a recent interview with Mr. Charles Hepperle, Product Coordinator of Maisto International, Inc. Maisto has become one of the key players in the diecast car industry and consistently offers interesting models at excellent prices.

TofTC: Maisto has become one of the major diecast players during the 1990's. By combining quality and value in 1:12, 1:18, 1:24, 1:36 and 1:64 scale, Maisto has forced other diecast manufacturers to compete at new levels. Now 1:43 scale is being added to the mix. Will Maisto continue to focus on all these scales in future or do you expect the focus to be more selective?
Maisto response: We expect to continue add new styles to these lines. By the way, the 1:64 and 1:36 scales are actually toy items in approximately 3" and 4.5" lengths.
TofTC: Many collectors are pleased that Maisto has offered hard-to-find examples of Japanese and European cars, especially in 1:64 scale. Recently, more American vehicles have started to appear. How will you balance the mix of manufacturers represented in future product lines?
Maisto response: As always, we strive to choose styles that our customers want. We're now increasing the proportion of American vehicles to our lines, especially in 1:18 scale. Foreign cars sell much better in the U.S. than U.S cars sell overseas, so in the past, Maisto made a much higher proportion of foreign vehicles. We'll release a '71 Chevelle SS454 and a '65 Pontiac GTO in the first quarter of 2000. Later in the year we'll have a 2000 Jeep Grand Cherokee as well as an historic "muscle car" of the '50s that I can't mention at this time.
TofTC: Maisto offers 1:18 and 1:24 scale cars equal or better in quality to those of your competitors. In 1:64 scale, Maisto products are sometimes inferior, although prices are excellent. New Maisto 1:64 models have tinted windows and no interior, moving them even further from the level of Matchbox or Majorette. At the same time, the selection of models has improved with many new offerings. What can we expect to see in the near future from the 1:64 scale line?
Maisto response: Despite the accurate and licensed body styles, our 1:64 (approx. 3") Motor Works cars are toys and are subject to intense price competition which means the simplified construction. We do include a few with more details, though, such as an aircraft catering truck with an operating scissors-lift van body.
TofTC: Do you regularly review the products of your competition? Which other manufacturers do you admire most for quality and value?
Maisto response: Of course! It's important for us to compare our products against others in the market. It wouldn't be appropriate for me to mention them specifically. There are many fine replicas available but often at a higher price.
TofTC: Early Maisto models are beginning to become more collectible. What do you see as the role of the collector in your marketing strategy?
Maisto response: Collectors are an important part of our customer base. Our Premiere Edition and GT Racing lines of 1:18 are made for the collector market. However, the bulk of our sales are to mass-market retailers.
TofTC: Maisto/M/C Toys products have appeared under a variety of other labels, Edocar of Holland, Chad Valley of the U.K., even Speed Wheels. Is this a trend that will continue or is Maisto looking to provide products under a more unified corporate image, world-wide?
Maisto response: We expect to continue making products for other labels.
TofTC: In many parts of the globe, Maisto diecast can be hard to find. What expansion do you have planned into new markets?
Maisto response: Maisto products are available worldwide and with the advent of the Internet, they are even easier to order if a retail shop isn't nearby.

TofTC: Thank you very much for spending time with our readers.