Tomica - 356 Speedster, #F9



Maisto - 550A Spyder



Siku - Carrera 906 #V285



Corgi - Carrera 6 #41-A



Mini Lindy - Carrera 6 #1



Speedy (Mercury) - Carrera 6 #801
Porsche's Sports Racers - Before 1970, The Formative Years
by David Cook
images by Doug Breithaupt


"Life itself is a race, marked by a start, and a finish. It is what we learn during the race, and how we apply it, that determines whether our participation has had particular value. If we learn from each success, and each failure, and improve ourselves through this process, then, at the end, we will have fulfilled our potential and performed well."
Dr. Ferdinand Porsche
Dr. Porsche's words aptly reflect his company's philosophy toward building world-class sports cars and testing them on race tracks everywhere. From the very beginning of post-war Porsche history, these German engineering masterpieces have been participants in sports car racing. The cars shown here span the era from approximately 1950 until 1970.
The 356 Speedster shown here by Tomica is a great example of one of the final developments of this earliest Porsche production model with the famous upside down bathtub look. This is the model that put Porsche in the sports car business with heavy sales here in the US as well as worldwide for many years. Several different variations of the classic "flat" 4-cyl engine and other options were available for touring or club racing.
The next model pictured became an almost instant classic when introduced in 1953. The 550 Spyder (here by Maisto) was designed for racing and featured the 4 overhead cam full-race engine. Class wins at international events such as LeMans, Carrera PanAmericana, Mille Miglia and others made this cars reputation. Many know it as the "James Dean" model in which he met his untimely death.
Porsche's racing ambitions grew with each season. The cars featured larger, faster engines and other weight-saving and aerodynamic innovations. The type 906 came in two stages: the earliest models, shown here by Siku and Corgi, featured parts left over from earlier cars. (They rarely threw anything away at Porsche!) Later models were called Carrera 6s and are shown here by Mini Lindy, Playart and Mercury/Speedy. The Zee Toys version is showing a misplaced 12-cylinder engine. First raced in 1965, the fuel-injected flat-6 took the 906 Carrera to Porsche's first overall win in an international event, the grueling Targa Florio in 1966. These cars were sold to customers worldwide and remained competitive for several years.
It should be noted here that except for a minor diversion between 1958 and 1962, Porsche pretty much stayed out of open-wheel racing until much later. Siku did a 1:64 plastic model of the Porsche F1 car, #V181. Flat-4 cylinder, rear-engined Formula 2 cars achieved some success, but the flat-8 Formula 1 type 801 gained only one world championship Grand Prix victory in 1962 (in the capable hands of American Dan Gurney!). Resources and parts from this project were applied to later sports car efforts.

In parallel to the 906 model and using both the standard flat-6 and experimental flat-8 engines, Porsche developed another race car, the type 910. Shown here by Matchbox, Zee Toys and a winged (correct or no?) Yat Ming, this car was never sold and was raced exclusively by the factory team. In 1967, type 910s gained two outright wins and several high finishes, bringing Porsche to second place in the International Championship for Makes behind the famous Ford GT-40s.
Our final model is a type 907, built in 1967. Shown here by Majorette, this car was manufactured (along with the type 908 the following year) to carry an enlarged upgrade of the flat-8 engine from the earlier Formula 1 project. Both came in several variations of short or long tail. Wings were sometimes added to compensate for bad habits at high speed! Type 907s and 908s won five out of the ten events in the Makes Championship in 1968 (including the Daytona 24 hrs..) but lost the cup to Ford again by 2 points! In 1969, seven wins in ten events for the updated type 908s were enough for the overall championship.
The 907/908 series was Porsche's notice to the sporting world that they would no longer be satisfied with class wins and were aiming for the top spot against all major contenders in international sport-car events, including LeMans.

Click here to view part 2 of the Porsche racing story.

Zee Toys - Carrera 6 #D9
(This model clearly shows a 12 cyl. engine. Did Zee Toys make their own 917 wannabe?)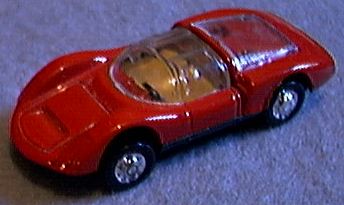 Playart - 910 #7102
(labeled as a 910 but clearly a 906)

Yat Ming - 910 #1020



Matchbox - 910 #68



Zee Toys - 910 #D64



Majorette - Le Mans 907 #232