Adam-12, 1979 Plymouth Gran Fury by Matchbox


Andy Griffith Show, 1961 Ford Fairlane by Johnny Lightning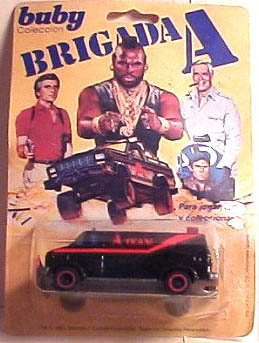 A-Team, GMC Van by Buby


Batman, Batmobile by Playart


Happy Days, 1957 Ford T-Bird by Matchbox
Brady Bunch, 1955 Chevy by Matchbox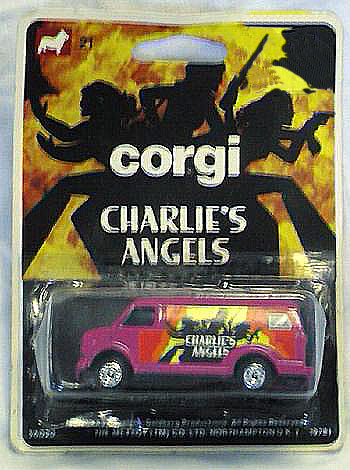 Charlie's Angels, Ford Econoline Van by Corgi


Dallas, Volvo 246GL Wagon by Majorette


Dallas, Mercedes-Benz 450SEL, Porsche 924, Jeep CJ-5 by Majorette
That should clear up a few of the commonly asked questions pertaining to the 1969 Charger in the "Dukes of Hazzard" television show. My report this month will focus on television cars and trucks replicated in approximate 1/64 scale die-cast metal, listed semi-alphabetically by TV show. So warm up that TV dinner, round up ol' Spot, get out the remote, and don your favorite bathrobe and slippers, as we go a 'hunting on the boob tube - past and present.
Matchbox (MBX) released the first series of its 'STAR CAR COLLECTION' in 1998, asking about $5 retail for each car. Included in the assortment was the 1975 Plymouth Gran Fury driven by actor Martin Milner and his partner Kent McCord on "Adam 12" (1968-1975). The actual car on the earlier shows was the smaller and quite different Belvedere. That's not to say the larger Gran Fury was not used at some point later in the series which ended around the time when that Gran Fury came out, but MBX had that particular casting in its regular lineup since 1979 and that alone makes it suspect.
As I have stated in my earlier articles, Johnny Lightning (JL) printed on its 1998 'HOLLYWOOD ON WHEELS' blister cards, "our castings are modeled after REAL vehicles used in the movie or TV show - not pulled out of mothballs and tried to match" Quite true for the most part. The series imitates faithfully in miniature a 1961 Ford Fairlane police cruiser that I have seen on reruns of "The Andy Griffith Show" (1960-1968). However, the bonus photo card in the blister pack of the 1961 Ford replica I purchased showed an image of Barney (Don Knotts) standing beside a 1963 Ford cruiser. Later use of a 1963 Ford cruiser would have been accurate, too, since back then a major auto manufacturer would supply gratis its most current models for TV shows as one method of advertising their products.
A ubiquitous black 1980's GMC van was one of the stars battling crime and capture alongside BA, Face, Murdoch, and Hannibal on "The A-team" (1983-1987) with George Peppard, Dirk Benedick, and Mr. T. Ertl of Iowa copied the GMC van and a suitable replica of the Corvette seen occasionally on the show. Buby of Argentina produced their version of the van in "Brigada A" blister packaging and it was sold here in limited quantities in secondary and Latin community markets during the late eighties.
Playart was an Asian manufacturer that in the 1970's to mid-1980's sold its castings in its own blister packaging ('FAST WHEEL') or under large department store labels such as Woolworth's, McCrory's, and Sears. Playart and British-made Corgi Juniors both replicated quite nicely the television Batmobile from the "Batman" (1966-1968) series starring Adam West and Burt Ward. In the movies it had graduated into the steroid-injected Anton Furst Batmobile but for prime time, the TV Batmobile made an admirable impression on little tykes and adults alike.
One of the worse examples of passing off a existing casting as a show vehicle comes in Matchbox 'STAR CAR COLLECTION' packaging. Its existing 1986 Mercury Sable wagon was painted green, decorated with side wood paneling (ouch) and marketed as the Ford Motor Company wagon from "The Brady Bunch" (1969-1974). The few episodes I have seen did not feature the family car but I am sure that neither Robert Reed nor Florence Henderson would approve the use of a casting of a car that came out in 1986 to represent their show's much earlier and larger Ford or Mercury vehicle. Moreover, the Sable wagon did not come with wood applique.
True, I am a purist. I expect only castings that come reasonably close to the actual vehicles to be marketed as such. I wish people would not buy these rip-off offerings so that we could send the right message to the toymakers. For 2000, MBX has tendered a second release "Brady Bunch" 'STAR CAR COLLECTION,' a 1955 Chevy Bel Air convertible, also, an existing casting. I have half a mind to watch every episode of "The Brady Bunch" to verify the car - but my other half says it's not worth the effort - I'd never survive the bad acting and sappy scripts.
Corgi Juniors made the only vehicle I discovered pertaining to the ever-popular "Charlie's Angels" (1976-1981) starring Farrah Fawcett, Jaclyn Smith, Kate Jackson, and David Doyle. It appears to be solely promotional because the large logo on the side of the Ford Econoline would have alerted criminals that the girls were nearby. It's possible that the Ford van without logo performed back-up duties on the popular TV show.
French toy manufacturer Majorette made several vehicles from "Dallas" (1978-1991) starring Larry Hagman, Victoria Principal, and Patrick Duffy among others. These include a Mercedes 450, a Porsche 924, a Jeep, and a Volvo station wagon with camper in tow. Again, I could not authenticate the presence of these vehicles on the show.
In the same 'HOLLYWOOD ON WHEELS' series mentioned earlier, JL made a 1966 Ford Fairlane 4-door sedan driven by Jack Webb's character on assignment in "Dragnet" (1967-1970). Accurate vehicles like these would never be produced if it were not for the dedication shown by JL for replicas of this type.
Tom Wopat co-starred with John Schneider, Byron Cherry, and Catherine Bach in "Dukes of Hazzard" (1979-1985) mentioned in the beginning of this article. The TV series has accumulated a respectable legacy of automobiles. Ertl marketed individually and in a multitude of sets its versions of Boss Hogg's 1969 Cadillac de Ville convertible, General Lee's orange 1969 Dodge Charger, Daisy Duke's Jeep CJ-5 and a 1980 Pontiac Catalina 4-door police cruiser. In 1997, Ertl reissued a 3-car set with slightly remolded Dodge and Pontiac metal castings and recast plastic interiors for about $6 retail. The Cadillac casting was re-used.
2000 saw Ertl's release of General Lee's Dodge Charger in 1/64 kit form. It is actually a recycling of the Racing Champions, Inc, (RCI) casting since RCI took over Ertl this year. Ertl should have recast the inaccurate plastic front grill to show either the headlamp flaps closed or the headlamps positioned further back within the grill. Daisy's Jeep was done in 1/144 scale by RCI (Editor's note; To see a rough example of the Ertl version in 1/64 scale, click here). Buby made a casting only of the Dodge Charger in its "Los Dukes de Hazard" blister packaging, which accompanied "Brigada A" items to US Latin community store shelves.
If JL presently produces the best replicas of this type, then Corgi and Ertl should be lauded for their contribution in the past. Without Ertl we would not have the many excellent replicas of cars from past TV shows, including Lee Majors' brown GMC pickup truck from "Fall Guy" (1981-1986) or the red Coyote super sports car driven by Brian Keith in "Hardcastle and McCormick" (1983-1986).
Again, the offending MBX 'STAR CAR COLLECTION' is responsible for two hyped versions of vehicles from "Happy Days" (1974-1984) with Henry Winkler, Ron Howard and others. While the first release, a 1956 ford pick-up may have been a new casting in 1997, it has been used extensively since then. The second release, a 1957 Ford Thunderbird convertible, has been around and neither has credibility since few cars were actually featured throughout the television series as I remember. To be sure, MBX is relying on everybody's memory to be lacking about what the actual cars on these TV shows were.
I had not realized until I was all the way home that the cashier did not charge me for a Hotwheels set that included the 1933 Ford convertible and the Dixie Chopper mower from Tim Allen's "Home Improvement" (1991-1999). I have got to be one of the few people who has never seen this popular TV show. Maybe the 'gift' was a hint for me to rent old tapes of that show and "Seinfeld," another extremely popular TV show I have never seen from that time period, so that I can catch up with what is no longer current?
Anyway, that ends the third installment in my series. Next month I have the last of the television show diecast replicas. After that I will do a wrap up - presenting some submissions by you the readers (send to woodsmythe@yahoo.com), updates I have found on my own, comments on pricing, and suggestions to the manufacturers for future castings that I (and my collector buddies) would love to see on the shelves. Stay tuned.

Dragnet, 1966 Ford Fairlane by Johnny Lightning


Duke's of Hazzard 4-pack by Ertl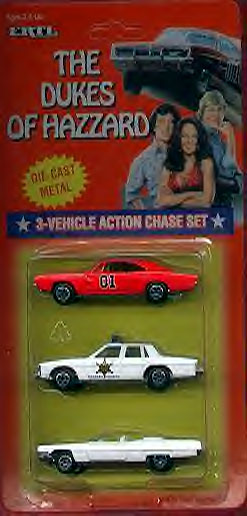 Duke's of Hazzard new 3-pack by Ertl


Duke's of Hazzard, new General Lee 1969 Dodge Charger by Ertl


The Fall Guy, GMC Pick-Up by Ertl


Hardcastle and McCormick, Coyote by Ertl


Home Improvement, 1933 Ford and Dixie Chopper Mower by Hot Wheels