Playart remains one of the more difficult diecast toy car manufacturers to chronicle. Few diecast directories offer lists of Playart models. At the same time, collectors are beginning to place a higher value on these diecast vehicles of the 1970's and '80's.

Playart first surfaced in the late 1960's and in 1969, contracted with Woolworth's to replace Husky as the in-store diecast brand. Playart also offered their toy cars through other department store chains like Sears, again in store packaging. In addition, Playart models were offered in packaging from the manufacturer. Through the 1970's, Playart changed their wheels to comply with child safety laws (the early chrome hub-caps are easily removed). They added new models and offered both 1:64 and 1:43 scale, as well as airplanes and military vehicles. Playart models are clearly 'toy cars' and most found today have seen considerable play time. What makes Playart models particularly appealing is the amazing variety and many models of cars rarely seen in small-scale. Try to find another Jensen FF or Fiat Dino, Playart offered both and many more great cars. For more on Playart's history, please visit our earlier story.

Playart packaging as shown right, changed over the years and varied based on which stores were selling the product. Playart offered their own packages, both in window box form and as a blister featuring 'Sargent Pepper' style graphics. Woolworth's used the 'Peelers' name for their re-packaged Playarts. Sears offered Playarts in the 1980's as Road Mates. Some of the packages feature model lists on the reverse which have provided a source for the lists that follow.

In 1998, 'Tales of Toy Cars' featured a story on the many toy vehicles produced by Playart of Hong Kong. Since that time, we have been working to assemble a better list of models. In addition, my personal collection of Playart models has now grown to 56 different castings. The list below and on the second part of this story, is the culmination of our efforts to provide collectors with a list of Playart's 1:64 scale models. If you have any additional information on Playart models, we would love to hear from you (e-mail).

Mustang in Playart window box


Honda S800 in Playart blister
Eldorado in Woolworth's blister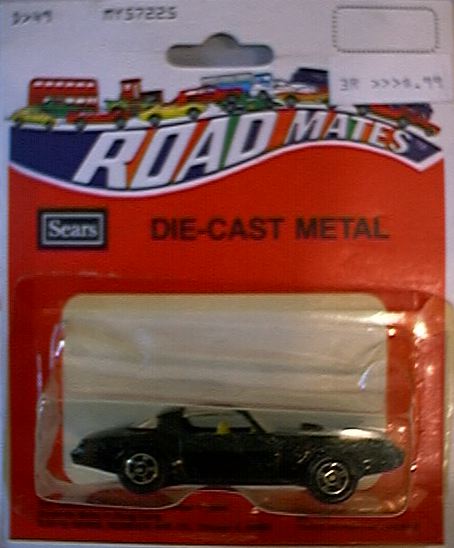 Firebird in Sears' blister