Toy Box Treasurers - Playart, A Far-East Favorite
By Doug Breithaupt
The miniature vehicles produced by Playart in the 1970's and '80's deserve much more recognition then they have received from collectors. Primarily seen as Asian diecast of moderate quality, these 1:64 scale models represent much more. Perhaps the greatest attraction to the Playart models is the fact that so many are examples of cars never done by any other manufacturer in small-scale. Of the 27 examples in my collection, eight are one-of-a-kind in 1:64 scale. Most of the others are of models seldom done.
The Playart story is not easy to trace. Most major diecast directories provide only a brief summary of the company. From the age of the company's earliest products, it appears that Playart was a Hong Kong based response to the success of Hot Wheels. Indeed, as the Honda S800 package to the left shows, the brand name 'Fast Wheel' was used with '70's graphics not unlike Hot Wheels packaging of the same period. Playart vehicles are not dated on the base but must have first been offered in the late '60's, early '70's. They were produced for about 15 years although when production stoped and why is unclear. The last were produced sometime in the 1980's. Some Playart diecast appear to be close copies of models from other manufacturers but the majority are unique castings. Playart vehicles were re-packaged for sale by large department stores including Woolworth's, McCrory's, Sears and others. Any additional information or literature on Playart would be greatly appreciated. Below is the most complete list I have available. Much of the list is courtesy of Brian Willoughby, a fellow Playart collector from Kentucky. Brian's own remarks about Playart follow on the next two pages of this article. Car numbers have been added where available. The number proceeding the entry is the earlier Playart number. The number that follows is the later Playart/Yatming number. Cars currently in my collection are in bold type. For a detailed look at one Playart car, the Jensen FF, click here.

PLAYART MODELS

Adams Probe 16 #1005
7112 Alfa Romeo P33
Alpine Renault A110
7107 AMC Javelin SST
Amphibious Jeep
7110 AMX "390"
7852 Army Jeep
7157 Austin Mini Cooper S Mk. II
7100 Batmobile
7101 Barracuda Formula S
7135 BMW 2002 #1017
BMW 633 CSi
BRM Racer
7161 Bulldozer
7115 Cadillac Eldorado
Camping Trailer
7113 Carabo Bertone
Chevrolet # 1003
7121 Chevrolet Astro-1
7109 Chevrolet Camaro SS
Chevrolet Caprice Classic
Chevrolet Caprice Fire Chief
Chevrolet Caprice Taxi
7136 Chevrolet Corvette Stingray
Chevrolet Racer #1002
Chevron #1022
Citroen CX 220
7166 Combine Harvester
7143 Crown Hardtop SL
7159 DAF
7137 Datsun 240Z
7105 De Tomaso Mangusta 5000 Ghia
De Tomaso Pantera
7165 Diesel Roller
Dodge Challenger
Dodge Paramedic
Dodge Sports Coupe
7162 Double Decker Bus
7164 Dump Container Truck
Dump Truck w. Hinged Door
Ferrari BB512
7158 Fiat 124 Sport 1600
7153 Fiat 850 Sport
7134 Fiat Dino
Fiat X1/9
7167 Ford Ambulance
7126 Ford Cement Mixer
7128 Ford Dump Truck
7160 Ford Freight Truck
7150 Ford Capri 1600 GT
7155 Ford Cortina GXL
Ford Mustang Boss #1024
Ford Mustang Convertible
7120 Ford Mustang GT
7116 Ford Mustang Hardtop
Ford Mustang Turbo
Ford Petrol Truck
7173 Ford Police Van
Ford Sealand Freight Truck
7172 Ford Station Wagon # 1015
Ford Tanker
7103 Ford Thunderbird #1008
Forklift Truck
Formula Race Car
Generic Dump Truck
7131 Generic Esso Gasoline Tanker
Generic Fire Truck
Generic Playart Freight Truck
Generic Wrecker Truck
Greyhound City Bus
Hairy #1021
[Hino] 3-axle Fire Ladder Truck
7168 [Hino] 3-axle Fire Snorkel Truck
7156 Hip Up Coupe Galant GTO MR
7139 Honda N360
7140 Honda S800
7152 Honda Z GS
Hyster 70 Forklift
7145 Isuzu 117 Coupe
7123 Jaguar E-Type 2+2 #1010
Jeep Renegade
7112 Jensen FF
Lamborghini Countach
7125 Lamborghini Marzel
7108 Lamborghini Miura #1001
Lamborghini Silhouette
Lancia Fulvia 1600 HF
Lancia Stratos
Lotus Elite
Lotus Esprit
7106 Mako Shark
7119 Man From Uncle Car
Maserati Bora #1013
Matra Simca Bagheera
7127 Mazda Pickup
7129 Mazda Wrecker Truck
7169 [Massey Ferguson] Tractor w. blade
7148 Mazda Discmatic Rotary Coupe
7130 [Merryweather Marquis] Fire Truck
McCrory Truck
7154 Mercedes-Benz 350SL #1011
Mercedes-Benz 450SEL #1012
Mercedes-Benz Ambulance
7114 Mercedes-Benz C-111
7118 Mercury Fire Chief Wagon
Nissan Laurel 2000 SGX #1007
7147 Nissan Sunny 1200 Coupe GX
7104 Opel GT
Opel Admiral #1018
Police Motorcycle
Police Van
Pontiac Firebird Trans Am
7102 Porsche 910 Carrera #1020
Porsche 917 #1023
Porsche 928
Porsche Audi #1019
7144 Porsche Targa 911S #1016
Postal Jeep
Range Rover
7133 Rolls Royce Silver Shadow
7151 Rover 2000 T C
Saab Sonnet #1014
7853 Saladin Armoured Car
7163 Sanitation/Garbage Collector
Scania Dump Truck
Scania Freight Truck
Scania Girder Truck
Scania Pipe Truck
Shadow Racer
7117 Toyota
7122 Toyota 2000GT Conv. #1006
7142 Toyota Celica 1600 GT
7149 Toyota Corolla 1400 SR
7146 Toyota Corolla Sprinter SL
7141 Toyota Corona Mk. II 1900 SL
7124 Volkswagen Beetle #1009
7850 Volkswagen Kubelwagen
7851 Volkswagen Schwimwagen
Volkswagen Station Wagon Volkswagen Microbus
Volvo 164E
Volvo 343
7138 VW-Porsche 914
7170 Zetor Tractor
My collection currently consists of the 27 Playarts pictured (the Bulldozer is not pictured) on this and the next two linked pages. If you have a Playart model not in my collection, please let me know if you have an interest in a trade or sale. Full image profiles for each of these cars are linked to my 'minicars' list. The story continues and the next eight Playart models may be viewed if you click here.
.
.
.
.
1970 Datsun 240Z - 1975 Citroen CX 220 - 1968 Cadillac Eldorado - 1968 BMW 2002

.
.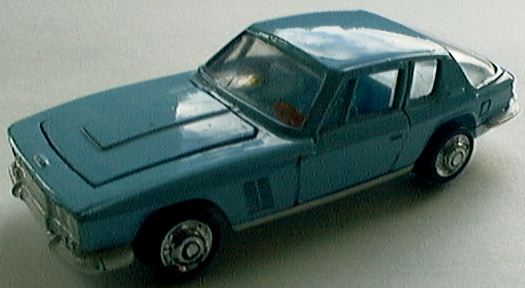 .

1974 De Tomaso Pantera - 1968 Jaguar 'E' type 2+2 - 1968 Jensen Interceptor FF - 1971 Mercedes-Benz 350SL