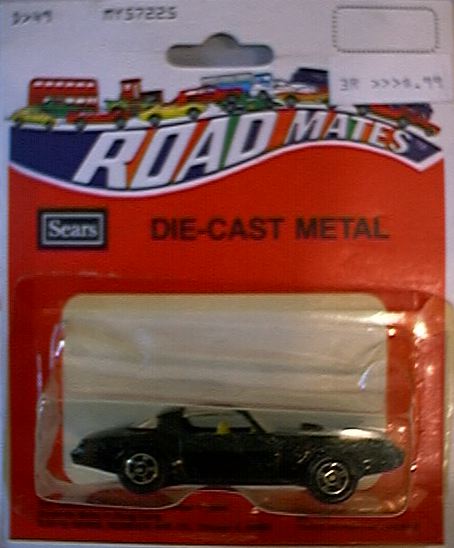 Playart IV - A Case Study
by Doug Breithaupt

A close-up look at Playart packaging and a representative model provides further information on these interesting diecast cars. On the first page of this Playart story, a sample of the early Playart blister card was shown. Here are three more examples of Playart packaging. The 'Fast Wheel' box is clearly marked as a Playart package and contains a Mustang and a model list on the reverse. The 'Road Mates' blister is a Sears package for the late 1970's Pontiac Firebird and does not say Playart on the package. The 'Peelers' blister is from Woolworths and and notes that it contains the Cadillac Eldorado (1968), but again does not say Playart on the packaging. Playarts were also packaged for other retailers like McCrory's. This re-packaging of Playart cars for various retailers was a distinctive marketing feature. While it has also been used by other diecast manufacturers, the complete lack of the Playart name of the 'Peelers' and 'Road Mates' blisters may confuse some collectors. It does not appear that the bases of the cars were ever altered and all bear the Playart name. The numbering of Playart cars is also confusing. four digit numbers beginning '71' (or '78' for military issues) were used and then later, four digit numbers beginning '10' appeared, which also match numbers used by Yatming.
The Jensen Interceptor FF is one of Playart's most interesting models. It represents a rare British grand touring car of ther 1960's. The Jensen Interceptor was built in Great Britian and powered by a Chrysler V8. The FF model, identified by the double side-vents on the front fenders, was one of the first production cars to feature four-wheel drive.


.



In 1:64 scale, Corgi also produced the Jensen Interceptor but only Playart did the Interceptor FF. Playart also provided an opening hood with engine detail. The Jensen represents many of the features that make Playart diecast a delight for collectors. The exterior and interior colors are period correct. This is rare in small-scale diecast of any vintage. The casting includes detail like the wing-window pillar, a very delicate looking but surprisingly sturdy feature. The tires with their chrome wheels are not ideal but compare well to other diecast of this scale. The body and base are both made of diecast metal, adding weight and strenght to the model. The base has reasonable detail and includes the manufacturer name, country, car make and model. A model number would be helpful but was seldom included by Playart. The painting of the base in white is curious as it would have looked better to leave it in bare metal. This however, is another common Playart feature.


.

.

Overall, the Jenson looks very correct in small-scale. This is not a cheap diecast product. In comparison to the Matchbox, Corgi and Majorette products of the same vintage, Playart vehicles are equal or superior to any of the diecast offered by the larger manufacturers. With the quality and rarity of this model, it is surprising that the value is not higher. If you can find one, the price should not exceed $8-10 in the collector market.

Back to Playart Story