The Hot Wheels Race Team
By Doug Breithaupt

1998 marks the fourth year that Hot Wheels have offered a 'Race Team Series'. These series have offered a variety of Hot Wheels vehicles all presented in the racing blue and 'fireball' logo so well known to children and collectors alike. No other diecast manufacturer has ever produced so many 'self-promoting' models. To be fair, Mattel also springs for the real thing with sponsorship of Kyle Petty's 'Hot Wheels' stock car for the NASCAR racing series.
The charm of this series is in the wide variety of racing machines and the unique display offered by the complete collection. All of the 21 models shown here and on the linked page have been bought for $1.00 US or less so the collection has not required any major financial outlays. Even the VW Bus, now selling for more that the retail cost of all the combined cars, was found 'on-the-rack' for $.78. A specially boxed racing series of four cars is offered for the price of about $10 per car but I find paying $9 each for paint alone, a bit excessive.
.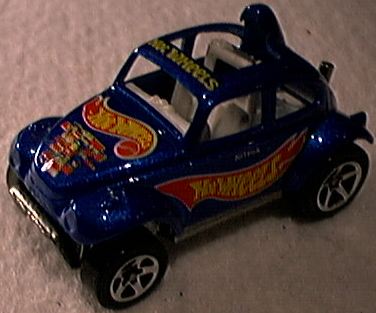 .
.
.
.
.
.
.


It is interesting to note that many of the models represented are Chevrolet products. The Chevrolet bow tie appears on the nose of these vehicles. Of course, not all are cars. Three trucks, two Chevrolet pick-ups and a racing transporter are offered. A Hummer is also included in the series. My favorite of the series is the Hydroplane. It is especially nice to combine it with the racing transporter which it matches in scale. Three German vehicles are included. The afore-mentioned VW Bus became an instant collectible and is actually a drag race special. The VW Bug is a Baja rally car and a Mercedes-Benz sedan is in European Saloon Racing form.