Miniatures on the Mulsanne, continued
By Doug Breithaupt

The 1990's are providing a revival of great racing at Le Mans. The Japanese finally won Le Mans with Mazda in 1991. Toyota, Nissan and Honda are trying hard to do the same. Jaguar won outright in 1990 and was deprived of a class win in the XJ220 due to post-race politics. Porsche is still the factory to beat but Mercedes-Benz is ready for 1999.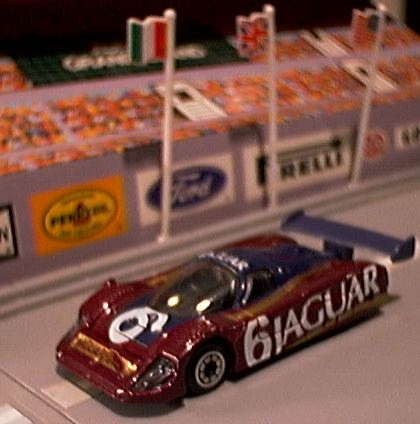 .
.
.

1990 - Jaguar XJR12, Corgi, 1992 - Jaguar XJ220, Matchbox, 1994 - Nissan 300ZX, Novacar, 1995 - Honda NSX, Majorette

.
.
.

1997 - Dodge Viper GTSR, Maisto, 1998 - Panoz GTR-1, Hot Wheels, 1998 - Porsche 911 GT1, Matchbox, 1998 - Mercedes CLK GTR, Maisto
The new century may see some long-absent names return to La Sarth. Bentley may be back thanks to Volkswagen. Mercedes is pushing hard with their new 'blitzen benz'. New-comers like Panoz have high hopes and the Dodge Viper is providing class wins with the goal of an outright win. To return to the first page of this story, click here.