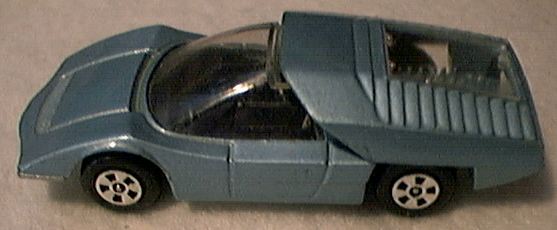 More Small-Scale Cars
from Ertl
by Doug Breithaupt
Thanks to a fellow collector Mike Condon from down-under in Australia, The small-scale story for Ertl continues. For the earlier article on Ertl, click here. The first image is of a Fiat Abarth that was offered as a dream car in the early '70's. The tail opens to reveal the motor. The second image is from the 1982 Ertl catalogue. It shows four cars that were part of the Matt Houston TV series offerings. The Excalibur series III Phaeton is of particular interest. The Maserati Quattroporte is a rare find from Ertl and was offered as a Rocky III car as well. The '69 Cadillac Convertible was also offered in the Duke's of Hazzard set too.
Of even more interest is the full view of the Replica Series from 1982. This clearly illustrates the wide variety of 1;64 scale cars offered by Ertl. While I have all of these cars except the VW in my collection, most are in a different color than shown. This page from the '82 catalogue notes 1:64 scale but in fact, the scale ranges from 1:66 in the case of the EXP to about 1:55 for the Porsche 911. The Ferrari Dino is a particularly nice casting and like most Ertl cars of this period did double duty as a movie car, in this case for Cannonball Run. The strangest car represented here is the Jaguar XJ sedan. The model is a nice representation of the XJ6/12 series II from 1974-78. It is in-correctly labeled as an 'XJ10' and even stranger, the individual package shows a picture of an XJ-S on the back! Considering the popularity of this car in the U.S., the error here is hard to understand.
I recently spoke at length with an Ertl representive at the Seattle Toy Fair. We were talking about Ertl's 1:64 casatings. The Ertl rep. was very surprised to hear that collectors are beginning to seek out these great little cars. I told him that if Ertl decided to re-release soem of these as they have with the recent Duke's of Hazzard set, collectors would be very pleased. I was pleased to hear that Ertl still has all the molds for these models and the representative said he would raise this issue with Ertl's produce marketing people. If you think this is a good idea, why not e-mail Ertl? The address is mailto:consumer_services@ertltoys.com
Ertl also has an excellent Web site at: ertltoys.com, well worth the visit.

Miniature Motorcar List | Tales of Toy Cars

GEN II HOME PAGE