O F F - T H E - S H E L F

---
The following editorial reflects the personal thoughts of Doug Breithaupt relating to our common hobby of miniature cars. It is intended to generate discussion relating to 'Tales of Toy Cars'. Your letters are welcome and may be submitted via the 'Guest Book'.
---
.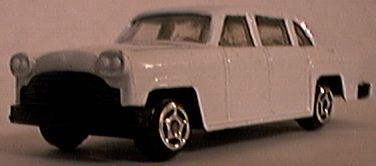 .
.
Summer Time

Do you find yourself saying, "why don't small scale diecast makers do more of the great cars?" Someone has been listening but the source may surprise you. The four cars shown above are distinguished by being classics and unique castings in 1:64 scale. The manufacturer is Summer, a Chinese firm that is best known for offering sets of about 100 diecast cars for $7.95. They are not competing for the high-end, quality market. At the same time, the four cars shown above represent wonderful models, un-available from the same high-end companies. The green convertible is a 1939 Alfa Romeo 2500 Sport. The white sedan is a famous Checker cab. The red sedan is no less than a 1948 Tucker Torpedo. The blue coupe is a 1975 Jaguar XJ12C. Yes, the wheels are simple and Summer's curious squarish wheel cut-outs do not improve the looks, but these are unique castings. They have windows and full interiors. With a bit of paint detailing, they could become quite distinctive. The Alfa, Checker and Tucker were recently purchased in Canada, at an exchange-bonus price of about $.40 each. The Jaguar is older and shows that Summer has provided these unique castings for some time. The source of these interesting castings seems to be from 1:43-1:36 scale diecast. I suspect that Summer uses 1:43 and 1:36 scale diecast as a source for their models designs. Many other diecast manufacturers use other diecast or plastic kits as a model for their offerings in bigger or smaller scales. This is a legitimate practice and should not be confused with cheap copies of same-scale cars from other companies. The inspiration for the Alfa was clearly Solido's 1:43 scale 2500 Sport, #4160. The Jaguar may have come from Corgi's 1:36 scale XJ12C. The Checker and Tucker can also be found in 1:43 scale.
For the collector, these are quite charming little models, especially at less than $.50 each. Maybe Summer will finally provide me with a BMW 507, a Maserati Ghibli, a Bentley Continental, a Studebaker Avanti and so many more missing from 1:64 scale. More hot rods, muscle cars and NASCAR racers seem to be the fixation of most major diecast manufacturers. Finding unique models like the ones above are as refreshing as a Summer breeze.
Excalibur Deux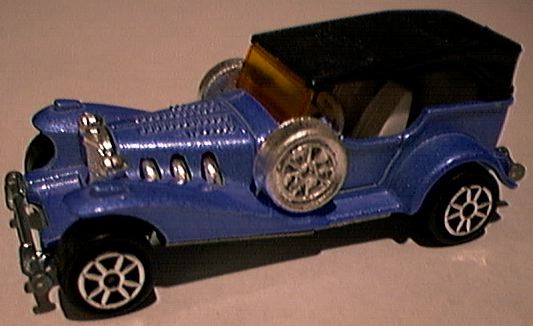 As noted in the Ertl article contained in this issue, Mike Condon of Australia was kind enough to send me a variety of images from Ertl's 1982 Catalog. An earlier Ertl article provides a detailed look at these cars. One of the more interesting offerings was an Excalibur Phaeton in series III bodywork. This make for an interesting comparison with the series II Excalibur by Majorette, recently featured in ToTC. The Ertl version was offered as part of a Matt Houston TV show collection of four vehicles (the other three were the 1970 Cadillac Cvt., Maserati Quattroporte and Chevy Blazer). I had thought that the Majorette casting was the only small-scale Excalibur but Mike has shown me the error of my ways. Now I have another car to put on my 'seeking' list. Many would say that the original Excalibur designed by Brook Stevens with Studebaker power, was the best looking. Unfortunately, it has not been done in 1:64 scale yet. Many enthusiasts do not find these neo-classics appealing and from a design stand-point, I must agree. At the same time they deserve a foot-note in automotive history and toy car history as well. Thanks. Mike.

Menage a Corvette
My previous article on Corvette C3 models in 1:64 scale raised an interesting point for readers regarding the Matchbox casting. You tell me, what's wrong with these three pictures? The same car, with and without t-tops is labeled as a '74, '77 and then '78 Corvette. What gives? The easy answer is that Matchbox has found it easy to play fast and loose with the model year represented by this casting. Curiously, it is the casting represented by the '77 example that came first and is most likely the correct year. The model was released by Matchbox in 1979 and was one of the last of the Lesney castings made in England. As it has the notch-back styling of the '68-'77 cars and came out in '79, it was most likely modeled from the '77 car. In 1993, Matchbox offered a boxed set of five Corvettes to celebrate the 40th anniversary of America's sports car. The two yellow-boxed cars come from this set. The t-top version of the '77 C3 has suddenly become a '74. I don't know if t-tops were available for the Corvette in '74 but Matchbox obviously thought so. The other casting change is the addition of wing windows. This is strange as the wing window on Corvettes was deleted in 1968! Did Matchbox need the extra support for the 'A' pillar when the t-tops were cut out? More recently, the same t-topped car has appeared in the Premier Collection as a '78. Of course in 1978, Corvette went to a fast-back window so this is an obvious error in year. Why not call it a '77 as it clearly is? Matchbox is not the only diecast maker to play around with model years. This example may however be the most extreme.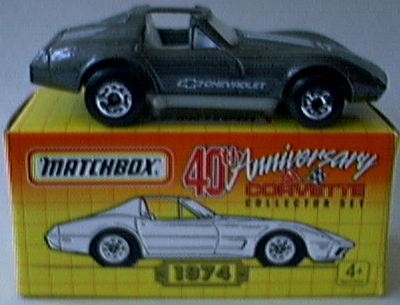 .
.


Editor's note: Please tell me about your diecast interests and why you collect. I would love to share your story with 'Tales of Toy Cars' readers. Your contribution may be submitted via the 'Guest Book'.